UMSL embarks on a dramatic campuswide transformation
Ken Cella wouldn't change anything about the education he received at the University of Missouri–St. Louis.
Cella is the principal overseeing branch development at financial services firm Edward Jones and the new president of UMSL's Chancellor's Council. He reflects fondly on friends he made at UMSL, relationships he built with faculty members and the lessons they taught him during his time at the university before graduating with his degree in marketing in 1993.
He admits, however, that the students of today have far greater opportunities.
"When I was a student, there really weren't many amenities to speak of for the students," Cella says. "The student center was something far different. We had the library, but it just wasn't seen as a place to hang out. You had to find places off campus to do that."
Construction of the Millennium Student Center was completed seven years after Cella graduated. It would be another 15 years after that for the Recreation and Wellness Center to open its doors.
Now, almost 30 years since Cella completed his degree, UMSL is embarking on another period of transformational change that will further enhance the student experience with the creation of a more centralized academic core north of Natural Bridge Road and a health sciences campus to the south. Federal funding from the American Rescue Plan Act and private donations are supporting more than $100 million in initial campus enhancements, including improvements to University Libraries, construction of the Richter Family Welcome and Alumni Center and the renovation of classroom and laboratory spaces to better serve the needs of students now and into the future.
"We're building a more cohesive academic experience while connecting campus assets and creating a collaborative environment for learning, research and innovation," Chancellor Kristin Sobolik says. "And the subsequent demolition of vacant buildings and clearing of land on the South Campus will open 35 acres for transformative development."
Naturally, UMSL students, faculty and staff stand to benefit from that thriving new development, as they'll be able to gather in restaurants and take advantage of other amenities without leaving campus. But the development will enhance not only UMSL but the surrounding community in north St. Louis County, too. The proposed district will include housing, health services, a grocery store, office space and child care.
"I can't think of a more exciting and different time for UMSL than now," Cella says. "Sometimes I just think, 'Wow, how cool would it be to be back there as a student today?"
Here, get a sense of how the project was brought to fruition – and what's in store.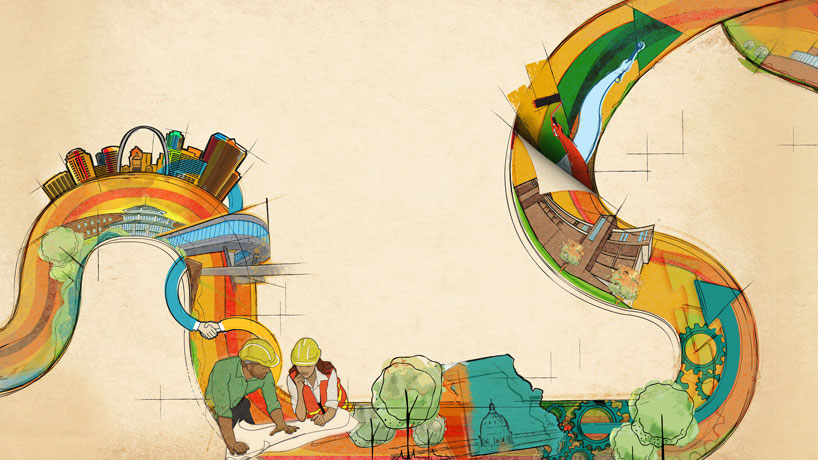 Spring 2021
Work begins with a period of investigation and analysis, looking at data and interviewing key stakeholders to determine current and future needs. Chancellor Sobolik and her team begin working with state and local elected officials to secure foundational support for the project.
Summer 2021
Campus leaders refine ideas for the plan, seeking consulting help from architecture and design firm Lamar Johnson Collaborative to develop the overarching plan.
Fall 2021
Campus Master Plan is finalized and approved by the University of Missouri Board of Curators.
Winter-Spring 2022
Matt Prsha didn't know the role he would inherit when he came to UMSL as the director of planning design and construction in September 2021 after more than a decade directing project management at global commercial real estate services firm Cushman & Wakefield. He hadn't been prepped on the Campus Master Plan when he was interviewing for the position and had no idea that he'd be overseeing its implementation after being elevated to the role of executive director of facilities management earlier this year.
"I didn't expect it, but I'm excited about it," he says. "I think it's a huge opportunity, even for me, to transform the lives of students, faculty and staff. I'm grateful to help lead during this transformational time."
The facilities team Prsha now leads has stayed busy over the past year working with architects and designers to come up with more detailed plans in alignment with the needs of faculty, staff, students and community members. They've also worked to identify and hire contractors to carry out the work.
Throughout the process, they've sought to hire a diverse group of architects and contractors in alignment with the goals of the St. Louis Anchor Action Network, which seeks to advance racial equity and remove barriers to economic opportunity and create a more inclusive region. To date, three of
the project architects have offices inside the St. Louis Anchor Action Network's focused geography of 22 ZIP codes in north St. Louis City and north St. Louis County that have faced decades of disinvestment. Another is minority-owned, and a third is woman-owned.
Summer 2022
UMSL secures major funding for the project from the State of Missouri.
In July, dozens of elected officials and community members celebrated an unprecedented investment from the State of Missouri in north St. Louis County provided by the American Rescue Plan Act, which brought $2.7 billion in state fiscal recovery funds to Missouri. UMSL was awarded $40 million toward the campus enhancements appropriated in the state budget. Chancellor Kristin Sobolik thanked Gov. Mike Parson and the Missouri Legislature for their support, expressing gratitude in particular to the St. Louis delegation led by 14th District Senator Brian Williams, who joined Sobolik for an announcement and press conference at the UMSL Patient Care Center.
The university is required to match the state's investment and is continuing to work to gain additional funding appropriations to go toward the more than $100 million in renovations.
But UMSL's leadership realizes it will require more than public investment to accomplish everything in the plan, which is why new Vice Chancellor for Advancement Lisa Capone and her team will be working with alumni and friends of the university to gain the private contributions and investments necessary to make the vision a reality.
"This is a great opportunity for UMSL alumni and friends to be a part of this historic campus transformation that will impact thousands of students, faculty and staff into the future by elevating the campus experience, academic success and relevancy to the community we serve," Capone says.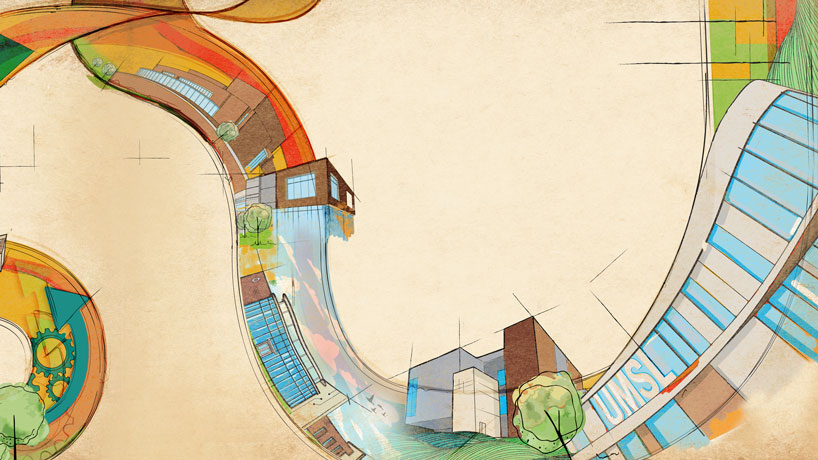 Winter 2023
Necessary capital maintenance and repair begins leading up to major campus renovations.
Spring 2023-2025
Buildings across campus are modernized and expanded in preparation for moves by the College of Education and Departments of Music and Art and Design to the North Campus.
The second floor of the UMSL Patient Care Center will be renovated in order to provide the College of Optometry with new teaching labs, offices and lounge spaces to serve students and faculty.
"It gives them an ability to develop and create the kinds of labs that are cutting-edge and puts them in close proximity to the experiences they get in the clinical setting," says Steven Berberich, UMSL's provost and interim vice chancellor for academic affairs.
"It also makes it easier for the clinicians who are teaching those labs and providing eye care in the center to collaborate with students."
The College of Optometry will be moving out of its existing home in Marillac Hall, and some of its classrooms and offices will shift to renovated space inside the Provincial House, which also houses the Pierre Laclede Honors College. The iconic building is more than 100 years old and is due to get needed updates and upgrades as part of the Campus Master Plan.
The Social Sciences and Business Building will be undergoing a similar modernization as well as an expansion that will take the place of a deconstructed tower in the Quad. The additional space will help accommodate a move from Marillac Hall's other tenant, the College of Education, into new office and classroom spaces. It will bring students closer to the library and MSC as well as their peers in other academic disciplines. "It's an opportunity to redevelop the educational learning experiences that they'll have," Berberich says.
The Departments of Music and Art and Design will also be crossing Natural Bridge Road and Florissant Road, respectively, to share a newly renovated Arts Administration Building, leaving behind the existing Music and Fine Arts Buildings. In the case of music students, the move will also bring them closer to practice and performance spaces in the Blanche M. Touhill Performing Arts Center.
Previously announced plans for the Richter Family Welcome and Alumni Center and UMSL Accelerate spaces will be realized, and University Libraries will be getting a new entrance that will provide access directly from the Quad. The renovations will also feature a new computer lab and study spaces, a gallery that will help better showcase art and artifacts from the St. Louis Mercantile Library's extensive collection and a café complete with outdoor patio seating adjacent to the Quad.
End of 2025
All projects are completed, leaving time to demolish aging facilities no longer needed, including Marillac Hall and the Music Building.
End of 2026
Land is cleared for construction of the North County Business and Workforce District.
By demolishing Marillac Hall, the Music Building, the Education Administration Building, the Sassin Building and the South Campus Classroom Building, the university is freeing up 35 acres of land to create a North County Business and Workforce District.
Details are still being developed, but UMSL intends to lease university land to build mixed-use commercial and residential spaces, including apartments, condominiums, restaurants, health services, a grocery store and office space. Health care and grocery facilities are currently lacking in the surrounding community.
"We'd like to see improved quality of life and amenities for north St. Louis County," says Chris Spilling, UMSL's vice chancellor for research and economic and community development. "We'd like to see an increase in St. Louis County's capacity for high-paying, in- demand jobs. We want to enhance workforce and training development opportunities in St. Louis County, and we want to build local and state tax revenues because that puts money back into the community."
UMSL too has been mindful to solicit community input throughout the planning and will continue to do so until the district is completed.
"Underpinning all of this is deep commitment that this development – both in the process of getting it built, and who it serves at the end of the day – supports the local community, and supports economic opportunity for Black and Brown residents and business owners," says Karl Guenther, UMSL's assistant vice chancellor for economic and community development. "That's going to be a core value that we put front and center."
This story was originally published in the fall 2022 issue of UMSL Magazine. If you have a story idea for UMSL Magazine, email magazine@umsl.edu.

Short URL: https://blogs.umsl.edu/news/?p=95896