A few years ago I couldn't wait to get out of the Midwest, I was just waiting for the chance to leave and start my life on the East coast. However, as I considered transfer schools, it was almost as if divine intervention led me to the University of Missouri-St. Louis. I've lived in the Midwest all of my life; but, I'm a coastal girl by heart. Luckily, I found UMSL before the ocean stole me away forever. Even though I can't wait to travel for graduate school, UMSL gave me a new look on St. Louis and the Midwest as a whole.
I have always lived in Illinois, right on the other side of the river; yet, I didn't feel a connection to St. Louis until my second semester at UMSL. Riding the Metro Link to school every day was a completely new and eye opening experience. The Metro was my first taste of public transportation and I love how convenient, cost-effective, and simple it is to take the train to school and to many other St. Louis hot spots. Living next to the Metro has allowed me to experience the great activities and events St. Louis offers, without actually living in the city.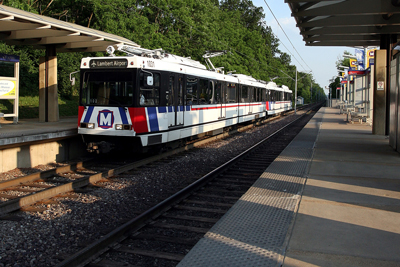 It's funny that going to UMSL really introduced me to the city I've referred to as home for so long; because, in the end St. Louis also helped me get to know UMSL better too. The UMSL Alumni network in this city is huge! My favorite place to go in the loop, FroYo, was founded by an UMSL Alum. FroYo isn't the only amazing UMSL Alumni run St. Louis organization. Keep your eyes open as you explore the city; the more you learn, the more you see UMSL's roots all over our community. A few days ago I went to a store in Illinois to get some new glasses and my optometrist was excited to tell me that she was an UMSL Alumni.
As a junior, I know graduation is getting closer by the second and I'm excited to see where I will wind up and what I get to learn in the process. I am really going to miss seeing the Arch every day on my way to school. Yet, this time as I contemplate leaving the Midwest I have a completely different outlook on my city. As UMSL students we all get the opportunity to share the many gifts UMSL and the city of St. Louis have given us with our community and with the world. Wherever I go, I'll take the spirit of St. Louis with me. Thank you UMSL for showing me that St. Louis is a true Midwest gem and each UMSL student or Alumni is a spectacular glimmer of hope and progress for our great city!