UMSL graduate student writes first novel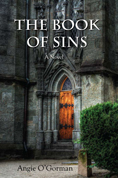 Angie O'Gorman is a student, activist and theologian. And now she is a novelist. O'Gorman spent five years writing "The Book of Sins," which takes place in a future where capitalism has overpowered Christianity, and the only remnant of religion is charity.
It's 2034, and Millie Parker Clee, 84, challenges the interconnected power structure of church, business and legal system under the guise of conducting a Bible study with four other women. O'Gorman says modern churches are generally satisfied with simply doing charity work.
"But the gospels require going beyond charity to equitable economic, political and social structures," she says. "I hope the book will help readers think about the relationship between economics and faith, wealth and violence, poverty and powerlessness."
O'Gorman, a graduate student in the Master of Fine Arts in Creative Writing program at the University of Missouri–St. Louis, has published articles and essays in America Magazine, Commonweal and National Catholic Reporter, among others.
She is currently writing a non-fiction book of conversations with torture survivors and another novel about war and its aftermath.
Plain View Press of Austin, Texas, released "The Book of Sins" in January. The 234-page book is on sale for $18.95.
More information:
http://www.umsl.edu/~mfa/
http://thebookofsins.wordpress.com/
http://www.plainviewpress.net/

Short URL: https://blogs.umsl.edu/news/?p=618