Debut issue of UMSL Magazine released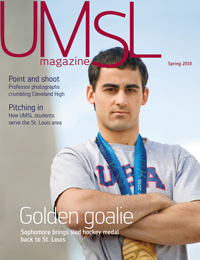 The University of Missouri–St. Louis released the inaugural issue of UMSL Magazine on Thursday.
Formerly UM St. Louis magazine, the magazine was renamed to conform to nomenclature approved by the Curators of the University of Missouri System and redesigned to better promote UMSL people and programs, according to Bob Samples, associate vice chancellor for communications at UMSL.
"We're happy with the publication's bold, clean design and new sections," Samples said. "We anticipate that readers will be pleased with the changes, too."
The university publishes UMSL Magazine for alumni and friends. The magazine highlights excellence at the university. Circulation is 74,000, and the magazine is released twice a year.
Changes include a new opening two-page spread that integrates the table of contents, masthead and letter from UMSL Chancellor Tom George. The university added a faculty books page and unveiled a department called "UMSL people," which includes profiles of students, alumni and friends.
Many of the redesign changes were informed by an online readership survey the university conducted in the fall. More than 60 percent of survey respondents were university alumni.
"We worked hard to apply all the information we received from the survey into UMSL Magazine," Samples said. "The survey results focused our attention on what our readers want."
This issue of UMSL Magazine has a central theme – how the university serves the St. Louis area. The issue includes a story about UMSL optometry students who deliver eye care to children using the university's Mobile Eye Center. Another story highlights student volunteers who help fulfill the housing and education needs of the region through a three-year grant from the Corporation for National and Community Service.
The cover story informs readers about the perfect performance of U.S. sled hockey goalie and UMSL sophomore Steve Cash. He stopped every shot he faced in the five games won by Team USA en route to capturing gold at the 2010 Paralympic Winter Games.
More information:
http://www.umsl.edu/magazine


Short URL: https://blogs.umsl.edu/news/?p=2518