New book captures Chouteau's account of St. Louis' founding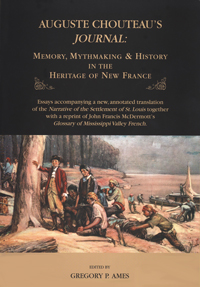 When 14-year-old Auguste Chouteau landed on the western shores of the Mississippi River in 1764, he brought with him a party of 30 men commissioned by his stepfather Pierre Laclede to clear the land for a new French trading post. They called the village St. Louis. Chouteau's account of that event, written in French, can be found in a new book published by the St. Louis Mercantile Library at the University of Missouri–St. Louis.
"Auguste Chouteau's Journal: Memory, Mythmaking & History in the Heritage of New France" contains Chouteau's "Narrative of the Founding of St. Louis." It is translated from the original 14-page manuscript and extensively annotated by its editor Gregory P. Ames, curator of the John W. Barriger III National Railroad Library at the Mercantile Library.
"The Mercantile has had Chouteau's original narrative since 1857 when it was presented by his son, Gabriel," Ames said. He describes it as "likely being a work in progress, probably a first or early draft and not intended for public view." There is a good deal of mystery and considerable debate about it among historians, which only adds to its attraction.
"Its purpose is uncertain," said Ames. "Chouteau calls it a journal, but it was written many years after the events it describes. It could be the beginning of his diaries. What we know is that it reflects his desire to appear well-spoken. He's very conscious of his word choices and their effect. It's written to impress. There are also indications it might have been used for a talk or speech."
It's also exciting reading, said Ames, whose translation appears side by side with a transcription of the original French, the first time any translator has done so. Previous translators of the narrative have not served Chouteau especially well, according to Ames.
"The present, more idiomatic translation seeks to restore his writing's vitality and to make Chouteau's narrative accessible to a wider audience," Ames writes in his introduction. "Chouteau was a raconteur of the first order and the few years covered by his narrative were some of this continent's most momentous."
Writes Chouteau, "Laclede was delighted to see the location (where St. Louis is now). He did not hesitate a moment to make the settlement there he envisioned. Besides the beauty of the site, he found there all the advantages one could desire in founding a settlement that might later become very large."
Chouteau writes in detail of negotiations with the native Missouri tribe and a French attack on the Chickasaws, which has itself come under fire for its lack of accuracy. Ames refers to the account as an "abridged dramatization."
Also included in the book are photographic reproductions of the original manuscript, three essays by noted scholars on the heritage of French culture in North America, and a reprint of the rare and out of print "Glossary of Mississippi Valley French," by John Francis McDermott.
According to John Hoover, director of the St. Louis Mercantile Library who has written the preface, this book has been long in the making. "Myth, reality, great events and hints of a revealed frontier world are blended in this intriguing document of an early French outpost's past by someone who actually was there when cabins became a city with a name," writes Hoover. "This is a timely endeavor, now that we are on the verge of St. Louis' 250th anniversary."
Publication of "Auguste Chouteau's Journal: Memory, Mythmaking & History in the Heritage of New France," was made possible by grants from the Gladys Krieble Delmas Foundation, the St. Louis Mercantile Library Association Publications Fund and an anonymous donor. It is available from the St. Louis Mercantile Library for $35.95 for members and $45.95 for all others. Call 314-516-7253 to place an order.

Short URL: https://blogs.umsl.edu/news/?p=7731