Volleyball spotted in AVCA preseason national poll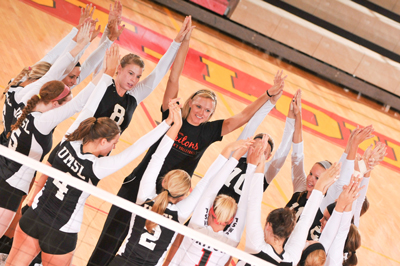 The University of Missouri–St. Louis volleyball team will begin the 2011 season ranked just outside of the American Volleyball Coaches Association Division II Top 25 Preseason Poll.
The UMSL Tritons received 25 votes – the second-best tally outside the top 25 – and were one of three Great Lakes Valley Conference teams mentioned with the University of Indianapolis and Lewis University (Romeoville, Ill.) coming in at Nos. 14 and 15, respectively.
UMSL is coming off a 20-9 overall record last season, which included an appearance in the NCAA Regional tournament. Additionally, the Tritons spent nine weeks in the AVCA Division II Coaches Poll, debuting September 13 at No. 25, marking the first national ranking for the program since 1993. UMSL reached a high ranking of No. 19.
Picked by the Great Lakes Valley Conference coaches as the favorites to win the league's West Division, the Tritons will be led by seniors Weslie Gaff, Shelby Crawford, and Erin Higgins – all all-GLVC selections in 2010.
Gaff was a first-team all-league selection last season after leading the team with 281 kills and 83 blocks. Higgins earned second-team all-GLVC honors with 212 kills and 59 blocks, while Crawford was tabbed as a third-team all-GLVC selection after posting 244 kills.
UMSL will open the 2011 campaign Sept. 2 and Sept. 3 by hosting the Tritons Classic. UMSL will entertain Wayne State University (Detroit) and Gannon University (Erie, Pa.) on Sept. 2 at 10 a.m. and 5:30 p.m., respectively before facing the University of North Alabama (Florence) and Lindenwood University (St. Charles, Mo.) on Sept. 3 at 11:30 a.m. and 7 p.m., respectively.
More information:
umsltritons.com/womens-sports/overview/7
avca.org/divisions/division-two-women/poll-8-15-11

Short URL: https://blogs.umsl.edu/news/?p=11302