Eye on UMSL: Thanksgiving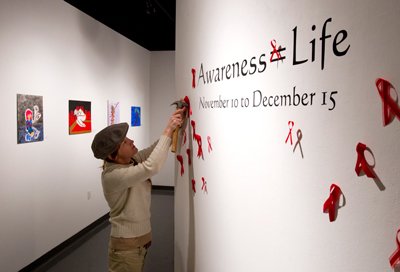 Stephanie Sivils, director of Gallery Visio, mounts a red ribbon denoting a new donation to the gallery's exhibit, "Awareness=Life," currently on display through Dec. 15.
"If you drop a dollar into the donation box here in the gallery, you get to pin a red ribbon to the title wall or pin it to yourself to show your support for AIDS awareness," Sivils said. "All of the donations will go to the Will Flores Fund to help a family affected by HIV-AIDS this winter. If they are not able to purchase a work of art, this gives patrons a chance to give to a great cause and help our community members in need this holiday season."
The exhibition features acrylic paintings by Normandy (Mo.) Senior High School student artists in their first gallery show. It started with an educational speech by St. Louis Effort for AIDS at Normandy High on topics pertaining to HIV-AIDS. During class time, the students were supplied with canvases and paint and instructed to create using the imagery and emotions surrounding HIV-AIDS.
The paintings range in size from 12"x12" to 16"x20" and cost from $15 to $30. Proceeds from the paintings also go to the Will Flores Fund.
Gallery Visio is in Room 170 Millennium Student Center. For more information, call Sivils at 314-516-7922 or visit umsl.edu/~galvisio.
The picture, taken by campus photographer August Jennewein, is the latest to be featured at Eye on UMSL.

Short URL: https://blogs.umsl.edu/news/?p=16342