Transfer Tuesdays offer encouragement, advice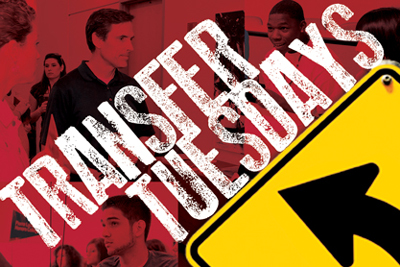 They signed up for many different reasons. For one woman transferring from St. Louis Community College at Florissant Valley, it's a step closer to her dream job as a social worker at St. Jude Children's Research Hospital in Memphis, Tenn. For a young man stuck in a job he hated, it was the perfect opportunity to jump into a new career.
The first Transfer Tuesdays information session at the University of Missouri–St. Louis for the spring semester was held Dec. 6 with nearly 50 admitted students, each of them with a different reason for being there.
Students were treated to a light lunch at the Millennium Student Center and a steady stream of representatives from the Center for Student Success, Student Financial Aid and the Cashier's Office. Brian Hutchison, assistant professor of counseling and family therapy, represented the faculty.
He encouraged the students to be open-minded about this next step in their education and told them about his own experiences transferring as a professor from a prestigious eastern school.
"You may discover some ways to rethink what college is and your place in it," he said.
He referred to himself as a believer in community engagement and he encouraged the students to stay engaged with people on campus.
"I want to know who you are and what you're passionate about," he said. "Ask questions, get involved. We're all here to help with the transition."
The students moved to smaller groups to learn about career development strategies, standards and procedures, and hear first-hand what the transfer student experience is like at UMSL.
All transfer students are required to participate in the information sessions or complete a Transfer Tutorial online. One more session will be held Jan. 10 from 1 to 4 p.m. To register, visit umsl.edu/transferservices or call the Center for Student Success at 314-516-5300.

Short URL: https://blogs.umsl.edu/news/?p=16816