Photo students to wow audiences with 'Shazam!'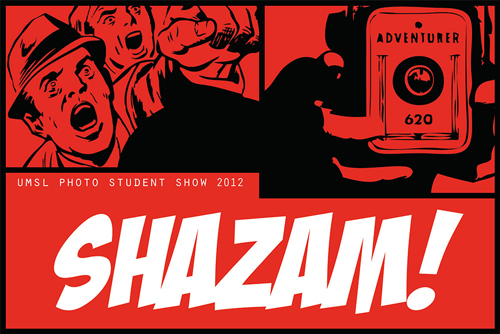 Learning the business end of the art world usually isn't part of the fine arts curriculum in college. But some student artists at the University of Missouri–St. Louis have added curating and marketing skills to their portfolios this semester. They will get to show it all off at an exhibit of their work opening Jan. 30.
"Shazam!" will be on display through March 4 in the Fine Arts Building at St. Charles Community College, 4601 Mid Rivers Mall Drive in Cottleville, Mo. The exhibit is part of SCC's annual Photography Invitational. An artist's reception will be from 6 to 8 p.m. Feb. 1 and is open to the public.
"This is a great chance for our students not only to exhibit their work, but to begin to understand how and why work is chosen for certain shows and how to build a new audience for themselves and the university," said Dan Younger, professor of art and head of UMSL's photography program.
Younger's senior photography majors were in charge of soliciting and choosing the work for the exhibit, collaborating to write introductions and design posters and invitations for the show. The student artists whose work was chosen for the show are Tom Bremer, Virginia Harold, Roxana Palmer, Erica Thompson, Jeff Higgins, Ed Whealon and Nikki Vahle.
Senior Lindsay Lehmuth, who created the artwork being used for publicity (and the top of this post), said she found the group dynamics of the project very helpful.
"It was exciting to work together and help choose the photos that would be in the show," she said. "Choosing the name of the exhibit was fun. We decided the work was so amazing we should call it 'Shazam!' The name lent itself to comic book art."
More info: SCC Photography Invitational

Short URL: https://blogs.umsl.edu/news/?p=18349