March UMSL Day 'sold out,' May 5 event added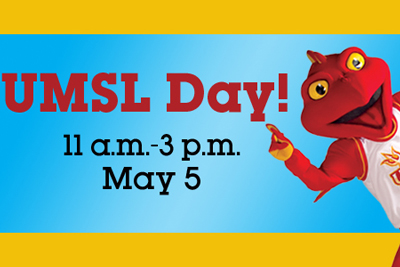 For the first time ever, registration for Saturday's spring UMSL Day information session has "sold out." With 1,000 potential students and their parents planning to attend Saturday's event at the University of Missouri–St. Louis, the registration has closed for the March 3 event. University officials announced an additional UMSL Day has been scheduled for May 5. This is the first time a third event has been scheduled to complement the regular spring and fall activities.
UMSL Day is a free event for potential students to learn more about the university, talk with faculty, advisers, financial aid counselors and tour the campus.
"Last year we broke a record with 636 total registrations for spring," said Alan Byrd, UMSL's dean of enrollment management. "This year's registrations came in early and often. We decided we had to cap registration in order to assure the best possible experience for those students and families attending."
For the last two years, UMSL Day attendance for both fall and spring events has more than doubled. Byrd said the carryover from each of the events has also been significant with an 8 percent increase in total applications for Fall 2012.
"Applications for beginning freshmen are up 18 percent and we have more freshmen admitted to UMSL at this point than any time in school history," he added.
Click here to register for UMSL Day May 5.

Short URL: https://blogs.umsl.edu/news/?p=20923