Storytellers share their tales at 33rd annual festival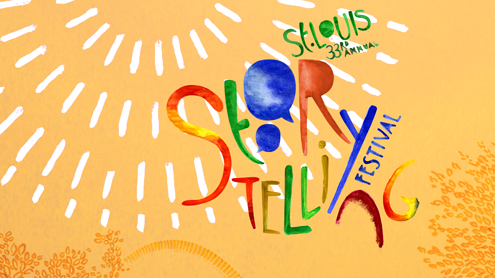 Sixty storytellers from throughout St. Louis and the U.S. will unite in May to entertain guests at an award-winning four-day festival presented by the University of Missouri–St. Louis. The 33rd Annual St. Louis Storytelling Festival will comprise 80 events at 20 locations throughout the St. Louis region.
The festival will run May 2-5 and feature stories suitable for all members of the family. Most events are offered free to the public.
Event locations will include the Blanche M. Touhill Performing Arts Center at UMSL, the museum under the Gateway Arch, library branches, parks and bookstores. Storytellers also will make special appearances at outreach sites for audiences unable to attend the regular performances, such as patients at Shriners Hospitals for Children and residents at the St. Louis County Family Court Detention Center.
The festival will feature special events including family storytelling, tales for adults, a youth storytelling concert, storytelling workshops, a storytelling program for the deaf, an evening of faith-based storytelling and ghost stories. The festival will conclude with the Saturday Night Storytelling Concert at the Touhill, in which all the featured storytellers will perform beginning at 7:30 p.m.
This year's featured storytellers include:
• Noah Buchholz, a deaf performing artist who performs cultural folktales, original fiction stories and poems, improv and comedy
• Willy Claflin, a favorite at the National Storytelling Festival and at regional festivals across the land who sings his own songs along with his stories
• Angela Lloyd, who regularly appears at festivals and theatres across the country and performs poetry, story and song played on autoharp, guitar and spoon and bell
• Kunama Mtendaji, a native St. Louisan who presents rich oral traditions from African folklore with the accompaniment of authentic dress, setting, music and dance
• Susan O'Halloran, author of six books, recipient of national and international video honors for her training films, and creator of a diversity curriculum
• Dovie Thomason, an award-winning storyteller, recording artist and author, recognized internationally for her ability to engage listeners with stories of her Kiowa Apache and Lakota relatives.
The festival is also conducting the Second Annual Story Slam, which allows amateur storytellers to submit their performances for a chance to win a $100 Visa/MasterCard gift card, a festival T-shirt and two tickets to the grand finale performance at the Touhill. This year, the Slam is partnering with the local nonprofit storytelling group St. Louis 10. Participants submitted their own YouTube video link, or performed at one of the St. Louis 10 events that was videotaped and streamed through the Storytelling website. Visitors can vote for their favorite through April 20. For more details, visit stlstorytellingfestival.org/index.php/slam.
For detailed information about the festival, including a full list of storytellers and events schedule, visit stlstorytellingfestival.org or call 314-516-5948.

Short URL: https://blogs.umsl.edu/news/?p=23454