Jubilee awards will fund oral history project, alumni concert, more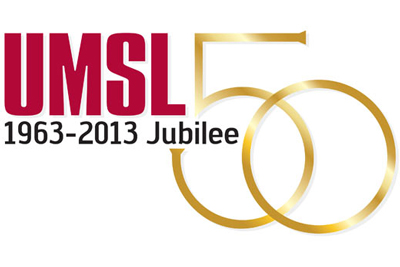 Believe it or not, giving away $50,000 is not an easy task. Just ask Patricia Zahn, chair of the Jubilee Program Committee at the University of Missouri–St. Louis.
Zahn's committee whittled down a list of proposals submitted to the Jubilee 50/50 Project to help celebrate UMSL's 50th anniversary in 2013. The university set aside $50,000 to help support events or activities sponsored and hosted by units, departments and organizations across campus. The group announced Tuesday that 33 projects were approved with 28 of them sharing a total of $40,000. Five projects were approved, but did not require funding.
The remaining $10,000 will support student proposals, which will be solicited in August.
"All of the proposals we received were worthy Jubilee projects, but we had almost $70,000 in requests for funding and only $40,000 to allocate at this time," Zahn said. "It was a difficult decision-making process that took our volunteer committee several hours to get through. We hope that the proposals we received that were not awarded funds could still become Jubilee projects."
Some of the top proposals included:
• Ariana String Quartet for a reunion concert with former students
• Department of Theatre, Dance and Media Studies to light the north side of the The Touhill's tower to call attention to the 50th anniversary
• Missouri Institute of Mental Health for an evening with filmmaker Jonathan Caouette and a showing of his documentary "Tarnation," about a boy growing up with a schizophrenic mother
• Chancellor's Cultural Diversity Initiative for an oral history project with audio interviews of at least one student from each of the university's 50 years
A complete list of the Jubilee project awards can be found at the UMSL Jubilee website.

Short URL: https://blogs.umsl.edu/news/?p=26238