Eye on UMSL: Corned beef on rye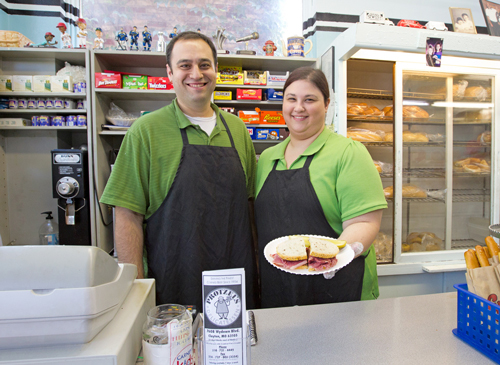 UMSL alumni siblings Robert "Max" Protzel, BSBA 2004, and Erica Protzel, BFA 2008, serve up Protzel's Delicatessen's signature corned beef on rye with a pickle, which the family-owned establishment has been serving since 1954.
As the Riverfront Times aptly noted of the dish when naming Protzel's the Best Delicatessen in the St. Louis area last year, "It's really the only thing you need to order at Protzel's Delicatessen. Five days a week if you want to – and why wouldn't you want to, seeing as how it's made fresh every day?" The deli is located at 7608 Wydown Blvd. in Clayton, Mo.
The picture, by campus photographer August Jennewein, is the latest to be featured at Eye on UMSL.

Short URL: https://blogs.umsl.edu/news/?p=26890