UMSL campaign nets more than $150 million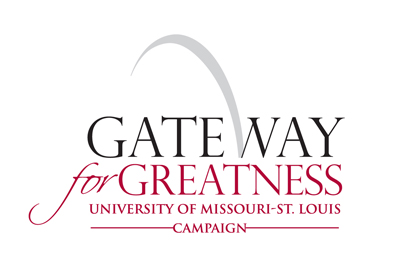 The University of Missouri–St. Louis was raising about $7 million a year when campus officials decided in 2005 to launch its first-ever comprehensive campaign – with a $100 million goal that made some nervous. That angst appears to be for naught.
Chancellor Thomas George announced today that more than $154 million was raised through the Gateway for Greatness Campaign that ended June 30.
"Shock and awe is the best way to describe my reaction," George said. "Many people had suggested our alumni were too young and our economy too weak to support a major campaign.
"But our alumni and corporate and community leaders proved differently. They have responded in record numbers in terms of supporting scholarships and providing funds to ensure we have quality programs and facilities."
Support for the seven-year effort that began in 2005 to raise private support for scholarships, facilities, programs and faculty positions was such that officials raised its goal in 2010 to $150 million.
"Reaching and surpassing our campaign goal speaks loudly to the importance UMSL has in this community," said Martin Leifeld, vice chancellor for advancement. "But the true measure of success is not the dollar amount raised … it's the number of people who will benefit from the money that was raised."
Significant among those beneficiaries are listeners of St. Louis Public Radio | 90.7 KWMU and students.
The campus station started broadcasting from UMSL at Grand Center on June 18. The new facility houses UMSL's NPR-affiliated radio station, as well as academic and public meeting space. UMSL faculty and students will begin using the facility during the 2012 fall semester.
UMSL raised more than $20 million for scholarships as part of the campaign. Six individuals or corporations gave in excess of $1 million for scholarships – among them Emerson Charitable Trust, Enterprise Holdings Foundation and the estate of Eugene and Alice Meehan. Eugene Meehan had been a longtime UMSL faculty member.
The largest concentration of giving – nearly $60 million – was targeted for faculty, academic programs, libraries and research. Five new endowed professorships or chairs resulted from campaign gifts, including the Peter G. Schick Professorship in Finance that was filled July 1 by Yiuman Tse.
The final days of the campaign were hectic and exciting, according to George, as donors worked to submit gift commitments, resulting in a new one-year record of $28.5 million. He also noted that a final major gift given to the campaign was especially rewarding to him.
"Peabody Energy is funding the renovation of two teaching laboratories in our Benton and Stadler halls," George said. "Benton and Stadler halls are among our oldest buildings and are central to the education of our STEM students – science, technology, engineering and mathematics. We've been working to renovate them for more than a decade. This gift, coupled with a campus plan to issue bonds, should finally get it done."
Campaign activities overall, George said, also helped UMSL achieve several high-water marks in important giving clubs, such as:
• 1,299 members of the Pierre Laclede Society ($1,000 annual donors)
• 257 members of the Auguste Chouteau Society ($100,000-plus donors)
• 31 Partners for Greatness ($1 million-plus donors)
Read more about UMSL Gateway for Greatness Campaign in the St. Louis Post-Dispatch.

Short URL: https://blogs.umsl.edu/news/?p=27980