Gateway for Greatness Campaign boosts access, excellence at UMSL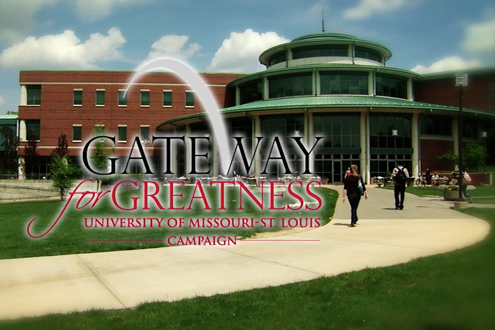 The Gateway for Greatness Campaign at the University of Missouri–St. Louis concluded this summer after surpassing an initial $100 million fundraising goal and a subsequent $150 million goal. The university raised more than $154 million through gifts by about 55,000 donors.
And what's their return on investment? Access and excellence, UMSL Chancellor Tom George said in a new Gateway for Greatness Campaign video.
"That's what your gifts mean to UMSL students and faculty," he said to the campaign donors. "Because of you, more students have access to a quality education that leads to excellence in their careers and lives. Because of you, our faculty members have access to new facilities and resources that leads to excellence in research and teaching."
The video made its debut Oct. 2 at UMSL's annual Founders Dinner. It includes messages from scholarship recipients Erin Tinker and Briona Perry; Natissia Small, director of the UMSL Bridge Program; Yiuman Tse, Peter G. Schick Professor of Finance at UMSL; private research grant recipients Sonya Bahar and Dawn King; Tim Eby, general manager of St. Louis Public Radio | 90.7 KWMU; and BC Biermann, director of emerging media at UMSL at Grand Center
Past videos have focused on alumni, students and faculty members.
"Access and excellence," George said in the video. "You made that possible. You made the difference. From all of us to all of you, thank you for making UMSL a Gateway for Greatness."
Click here or below to watch the thank you video for the Gateway for Greatness Campaign.

Short URL: https://blogs.umsl.edu/news/?p=30070