'In the Mood' for some nostalgia?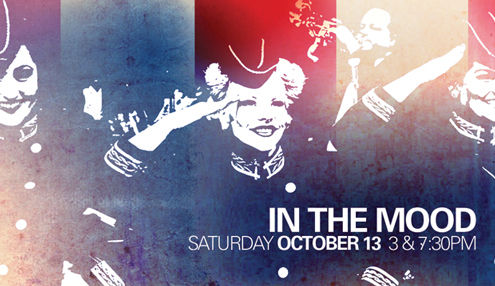 In the 1940s, America's greatest generation sacrificed at home and abroad to win victory in World War II while the nation recovered from the threadbare years of the Great Depression. All the while, the nation's soundtrack was an upbeat, hopeful mix of swing tempos and romantic ballads that promised better days ahead.
"In the Mood," the 1940s big band musical revue, will celebrate America's greatest generation with performances by a 13-piece big band orchestra and six singers and dancers at 3 and 7:30 p.m. Oct. 13 at the Blanche M. Touhill Performing Arts Center at the University of Missouri–St. Louis.
Consistently a sold-out show, the musical revue "In the Mood" features performers dressed in the style of the day, contributing to the genuine 1940s feel. Music made popular by Benny Goodman, Glenn Miller and The Dorsey Brothers will fill the Touhill with the sound that soothed a nation at war.
Tickets for "In the Mood" are $29-$49. Call 314-516-4949 or visit touhill.org to purchase tickets.

Short URL: https://blogs.umsl.edu/news/?p=30344