Eye on UMSL: Bach for STARS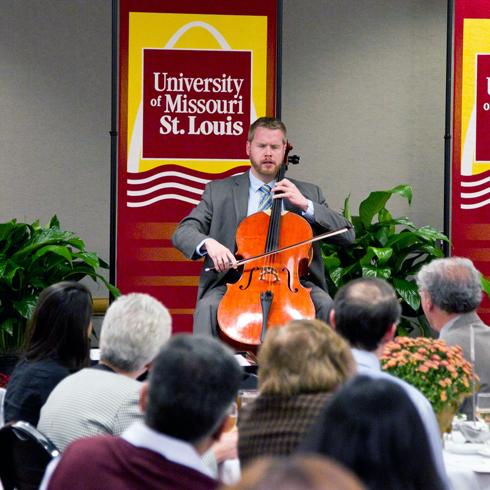 Bjorn Ranheim, cellist for the St. Louis Symphony, plays movements from Bach's 3rd Unaccompanied Cello Suite on Oct. 8 in the Millennium Student Center at UMSL. Ranheim performed at the annual awards ceremony and banquet for Students and Teachers as Research Scientists.
STARS is a six-week summer program that pairs dozens of high school juniors and seniors with research mentors from UMSL, the Donald Danforth Plant Science Center, Saint Louis University, Washington University in St. Louis and Solae. The aspiring scientists conduct intensive research in a number of disciplines, including anthropology, biology, chemistry, computer science, physics and psychology.
The photograph was taken by UMSL photographer August Jennewein and is the latest to be featured in Eye on UMSL.

Short URL: https://blogs.umsl.edu/news/?p=30578