UMSL fires up campaign to maintain tobacco-free campus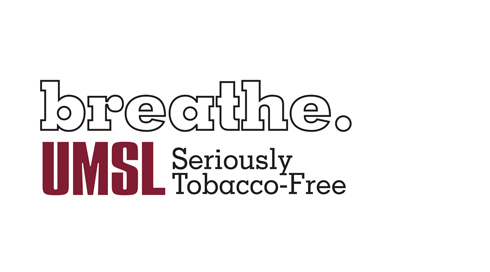 In an effort to help students, faculty and staff kick their tobacco habits and maintain a tobacco-free campus, the University of Missouri–St. Louis launched UMSL Seriously Tobacco-Free today.
"The campaign communicates our commitment to a tobacco-free environment and serves as a call to action for members of the campus community to help enforce the tobacco-free policy," said D'Andre Braddix, assistant dean of students at UMSL.
UMSL Seriously Tobacco-Free will run for eight weeks and move through five phases. The raising awareness phase starts this week.
Tobacco-free posters, banners, window clings, table tents and sandwich boards will be posted across campus. Even Louie did his part, posing for a near life-size cutout that reminds students to practice and enforce the tobacco-free policy. The cutout will spend time in a number of high-traffic locations.
"We're canvassing the campus with information and resources," said Jackie Schlarman, marketing manager in University Marketing and Communications at UMSL. "Students have made it a public health priority to eliminate tobacco use on campus, so we're working hard to help them inform our community that it's not cool to smoke on campus."
The second phase of the campaign, providing support, will begin next week when student volunteers will distribute nicotine replacement products and smoking cessation information to tobacco users. Volunteers will work in common areas, including the Quadrangle on North Campus.
The compliance phase will anchor the campaign. According to Braddix, the final stage is an important one because the university has struggled to reach total compliance with the tobacco-free policy since students pushed for it and it was adopted in January 2012.
"The university has made great strides, thus far, offering nearly 150 people smoking cessation assistance and dispersing many policy violators from the more visible locations on campus," Braddix said. "But there is still a long way to go in terms of increasing compliance."
To learn more about UMSL Seriously Tobacco-Free or to get involved, visit umsl.edu/smokefree or send a message to Alexis Nugent, senior information specialist at UMSL.

Short URL: https://blogs.umsl.edu/news/?p=34102