Jazz orchestra to pay tribute to Count Basie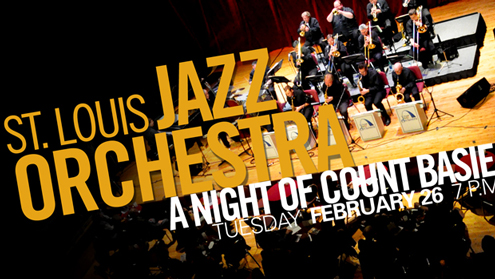 The St. Louis Jazz Orchestra will pay tribute to one of the leading bands of the swing era, the Count Basie Orchestra, with a concert at the University of Missouri–St. Louis. "A Night of Count Basie" will begin at 7 p.m. Feb. 26 at the Blanch M. Touhill Performing Arts Center at UMSL. 
Basie led from his piano – but his true instrument was his band. His sound was about efficiency and economy, encouraging a "less is more" sound from band members.
"Mr. Basie's band, more than any other, was the epitome of swing, of jazz that moved with a built-in flowing intensity," wrote The New York Times.
His arrangements were relaxed, allowing a clean backdrop for generous solo turns from outstanding musicians in the band.
The St. Louis Jazz Orchestra is led by Jim Widner, director of jazz studies at UMSL, and features some of the finest jazz musicians in St. Louis.
Tickets for the concert are $25. Call 314-516-4949 or visit touhill.org to purchase tickets.

Short URL: https://blogs.umsl.edu/news/?p=34718