International Business Career Conference to connect students with global leaders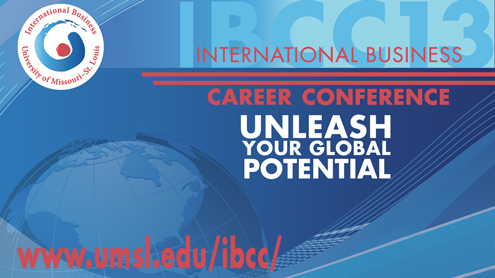 Do you want an edge in the global business market?  See yourself traveling and interacting with worldwide companies? Attend the fifth annual University of Missouri–St. Louis International Business Career Conference March 1 in the J.C. Penney Building/Conference Center at UMSL. The conference, "Unleash Your Global Potential," will run from 8 a.m. to 2:30 p.m. and includes a series of workshops, speakers and panel discussions.
Yvette M. Miley, the senior vice president and executive editor of MSNBC, is the keynote speaker. Miley is responsible for daytime programming, breaking news and coverage of special events. She has worked for NBC Universal for 20 years and is known for her passionate and dynamic leadership. In July of 2001, she was named vice president and news director of the then-owned NBC station, WVTM-NBC 13 in Birmingham, Ala.
UMSL's annual International Business Career Conference allows students the opportunity to connect with professionals and learn about career opportunities. The conference is open to all college students.
In addition to Miley's keynote the conference will also include:
"5 Trends in Internationals Business" – Ana Romero-Lizana (World Trade Center)
"Being Safe when Traveling Internationally" – Joseph Papes (Federal Bureau of Investigation)
"Developing International Business Relations" – Terry Joggerst (Winchester Ammunition)
"Landing a Job in International Business" – GS Ahluwalia (MasterCard Technologies)
"How to Work in IB while Staying in the U.S." – Arijana B. Hoormann (Scarbrough International)
"An overview of Vedanta Resources plc" – Anil Agarwal (Vedanta Resources )
"Landing a Job in the U.S. after Graduations" – UMSL Alumni Panel: Matt Kelley (Boeing Company), Chelsea Miller (Cass Information Systems) and Hima Patel (Metal Exchange Corporation)
The International Business Career Conference is sponsored by the International Business Honor Society,  the International Business Institute and College of Business Administration at UMSL.
Lunch will be provided. The conference is free, but registration is required.
Visit umsl.edu/ibcc/index.html to registration or for more information.

Short URL: https://blogs.umsl.edu/news/?p=34776