Chick Corea, Bela Fleck to play Touhill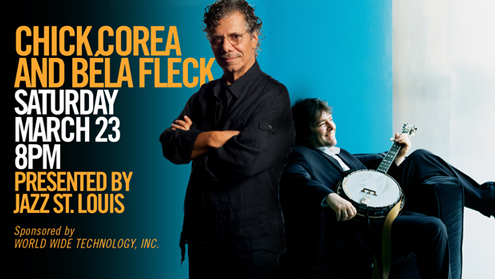 Maybe pairing a National Endowment for the Arts Jazz Master and the one of the world's finest banjo players shouldn't work. But the BBC calls Chick Corea and Bela Fleck "everything a collaboration of this caliber should be – perhaps even a little bit more."
Chick Corea and Bela Fleck will share the stage for a concert at 8 p.m. March 23 at the Blanche M. Touhill Performing Arts Center at the University of Missouri–St. Louis. Tickets are $35 to $125.
Corea's restless creativity knows no bounds. His groundbreaking band Return To Forever launched the fusion era of the 1970s. His work with flamenco great Paco de Lucia led to the formation of Touchstone, a band whose fiery Latinismo music has bridged the world of flamenco and jazz. His Piano Concerto No. 2 headlined Vienna's Mozart Celebrations. Corea's whole career is the stuff of jazz lore, an amalgamation of influential, limit-stretching, genre-bending musical experiences that have garnered him 18 Grammy Awards and legions of fans worldwide.
Béla Fleck lives to improvise and loves to work with unexpected musical fusions. His mix of jazz and bluegrass, dubbed "blu-bop," with his group, the Flecktones, was a critical and unexpected commercial success. Fleck has won 12 Grammy Awards, and is the only musician to be nominated for Grammy Awards in jazz, bluegrass, pop, country, gospel, composition and world music categories.
Fleck and Corea also won a Latin Grammy for their duet album, "The Enchantment."
Call 314-516-4949 or visit touhill.org to purchase tickets.

Short URL: https://blogs.umsl.edu/news/?p=35229