Earn a Certificate in Audio Recording from UMSL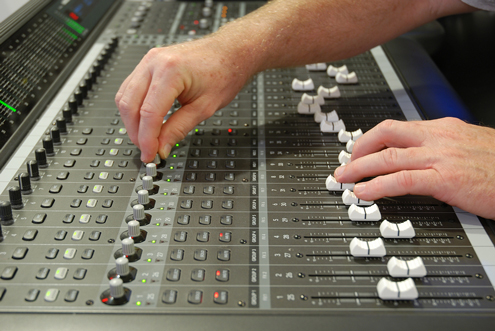 The College of Fine Arts & Communication at the University of Missouri–St. Louis announced its new program for students to earn a Certificate in Audio Recording. The college is collaborating with Ira DeWitt, president and founder of Notifi Records; the UMSL Department of Music; and the Blanche M. Touhill Performing Arts Center, to offer this certificate program that provides participants with the necessary technical skills needed for the production of high-quality sound recordings.
Through a mix of lecture-based courses and hands-on training, participants will learn to use audio technology, including recording consoles, microphones, and the widely used audio software program Pro Tools. Courses will be held in the studios of Notifi Records in Brentwood, Mo., and on the UMSL campus.
The first course offered, Intro to Music Business, will begin on April 3 and is an overview of the business structures of various types of music businesses. Course topics will address the following positions within the studio and live event industries: record producer, music publisher, booking agent, promoter, and tour manager. Additional topics that will be covered include copyright collectives, performance rights organizations, music business deal structures, and music distribution. The course will meet 6-9 p.m. every Wednesday, April 3-May 1. It will be offered again in the fall, beginning Sept. 4.
The second course beginning in April is Audio Engineering I and will meet 6-9 p.m. Thursdays, April 4-May 2. Sessions will include:
Sound Recording, focusing on the history of sound and how sound is recorded through both analog and digital recording hardware and software

Microphones, exploring proper microphone placement for vocal and instrumental recording, the different types of microphone polar patterns, and which microphone to use in different recording environments

Sound Waves, where students will learn the "3P's of sound" – physics, propagation and perception – acoustics and how sound is measured
Additional courses – Audio Engineering II, Music Production, Live Audio Engineering, and Mixing & Mastering – will continue May through September.
Courses are offered for either credit or noncredit. Participants can take select courses, but must take all six to earn the certificate. For more information on each course, including the complete course schedule, visit the website at audiorecordingcertificate.com or call 314-516-5994.
About the University of Missouri–St. Louis School of Professional & Continuing Studies: The University of Missouri–St. Louis School of Professional & Continuing Studies provides courses, programs, conferences, and events that fulfill degree completion, professional development and personal enrichment goals for the lifelong learner. For more information, visit pcs.umsl.edu.

Short URL: https://blogs.umsl.edu/news/?p=35492