KSDK features UMSL mail carrier Tom 'The Hat Man' Lange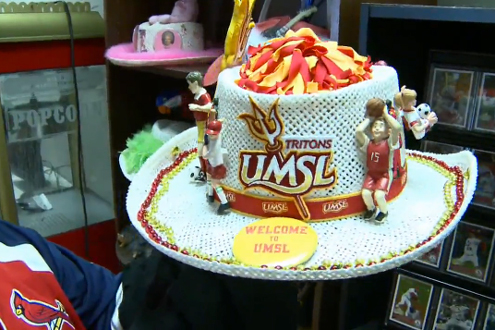 St. Louis Cardinals fans are often called "the best fans in baseball." And with a new season just underway, KSDK (Channel 5) once again turned to one of the best of the best fans to spotlight: Tom "The Hat Man" Lange.
Lange, a mail carrier at the University of Missouri–St. Louis, was recently featured twice on KSDK. For one segment, Lange discussed the elaborate Cardinals hats he's created over the last several years to celebrate his favorite team. He also showed off some of his non-Cardinals hats, including a UMSL-centric hat (pictured) he made to celebrate the university's 50th anniversary. 
Lange's hats are currently on display in the UMSL Postal Services building on North Campus.
Visit the KSDK website to view a video featuring Lange before the start of the season and on the day of the home opener.

Short URL: https://blogs.umsl.edu/news/?p=36189