GLVC champions: Softball wins program's first-ever GLVC title on a Katie Wood walk-off home run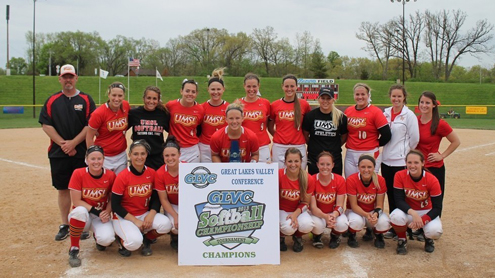 Sophomore Katie Wood delivered a two-out walk-off home run in the eighth inning to give the University of Missouri–St. Louis softball team the 2013 Great Lakes Valley Conference Tournament championship on Sunday with a 3-2 win over Lewis University (Romeoville, Ill.).
"What an incredible way to end the tournament," said third-year head coach Brian Levin. "After having to sit around all day Friday with the rain and not being able to play until yesterday, we were excited to finally get out on the field. All weekend we had good pitching and good defense and came up with the big hits when we needed them. The team is really peaking at the right time."
It is the program's first-ever GLVC title and just the second conference championship with the 1989 squad winning the Mid-America Intercollegiate Athletic Association title. It is also just the second GLVC championship for UMSL in any sport, with the 2003 baseball team winning the GLVC title.
"The softball program and the entire athletic department as a whole are on the way up," Levin added. "Hopefully this is just the first of many more to come."
The UMSL Tritons improve to 39-11 with the win and earn the league's automatic bid to the NCAA Regional Tournament. UMSL was selected as the No. 3 seed in the NCAA Division II Midwest Regional. The Tritons will face conference foe University of Southern Indiana (Evansville) Friday in Allendale, Mich.
Wood's heroics came after Lewis erased a 2-0 deficit in the fifth inning, scoring two runs on an Ali Brems triple.
Sophomore Madison Zbaraschuk delivered an RBI single in both the first and third innings to help the Tritons to the early 2-0 advantage. Zbaraschuk and sophomore Brianna Butler each had two hits as UMSL tallied nine as a team.
Sophomore Brittni Chapman picked up the win in relief, allowing just one hit in three innings.
UMSL advanced to the championship game by defeating No. 1 ranked University of Indianapolis, 1-0, earlier in the day.
Senior Haleigh Jenkins provided a solo home run – her third of the tournament – for the game's only run, while freshman Hannah Perryman tossed the complete game shutout, holding the Greyhounds to just two hits, while striking out 10.
UMSL tallied four hits in the win, including two from Zbaraschuk.
TOURNAMENT NOTES: Sophomore Madison Zbarashuk batted .583 in the tournament, recording seven hits and five RBIs, while senior Haleigh Jenkins led the Tritons with three home runs and seven RBIs and batted .462 … sophomore Brittni Chapman and freshman Hannah Perryman each went 2-0 in the circle and combined for a 1.50 ERA, while holding opponents to a .152 batting average … UMSL outhit its opponents, 33-14, and outscored them, 19-6… the Tritons finished with six home runs.

Short URL: https://blogs.umsl.edu/news/?p=37400