Big Muddy Dance set to 'Invigorate' Touhill audiences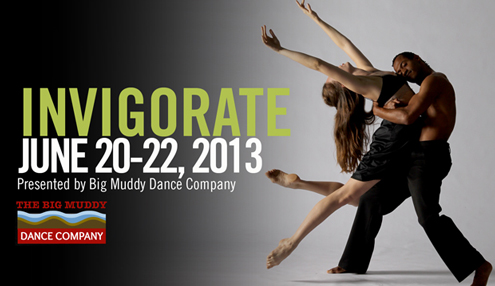 St. Louis' full-time, professional jazz dance company will present "Invigorate," a concert of new and classic dance works, at 8 p.m. June 20-22 at the Blanche M. Touhill Performing Arts Center at the University of Missouri–St. Louis.
The Big Muddy Dance Company, under the artistic direction of Paula David, has exploded on the St. Louis dance scene during its first two seasons. By building a diverse and powerful repertoire and valuing intense physical and mental training in rehearsals and classes, The Big Muddy Dance Company has received sold out houses and standing ovations at venues such as the Touhill Performing Arts Center, the NEO on Locust, the Casa Loma Ballroom and more. The culmination of the hard work and sweat will be evident in the Big Muddy's Touhill performances. 
"Invigorate" performances will include:
• The world premiere of "The Band," a new work choreographed by the internationally acclaimed choreographer and artistic director of gloATL, Lauri Stallings
• The world renowned and favorite "The '40s," choreographed by Lou Conte, founder of Hubbard Street Dance Chicago
• A new work "The Beat," choreographed by Alvin Ailey artists Kirven Boyd and Antonio Douthit
Other choreographer credits include: Kameron Saunders, award-winning St. Louis choreographer; Brandon DiCriscio, former dancer for River North Dance Chicago; and Harrison McEldowney, nationally renowned choreographer. The company currently employs 14 dancers and rehearses five days a week in the beautiful Downtown Dance Center in the Old Post Office District, bringing recognition to the downtown St. Louis area.
The Big Muddy Dance Company presents quality and entertaining dance in both contemporary and classical styles to celebrate St. Louis' rich musical heritage. Visit thebigmuddydanceco.org for more information on the company and its calendar of events.
Tickets to the concert are $22 and can be purchased online at touhill.org or by calling 314-516-4949.
Media coverage:
St. Louis Beacon

Short URL: https://blogs.umsl.edu/news/?p=38605