Eye on UMSL: Thumbs-up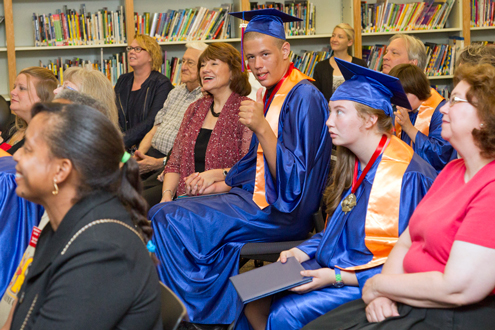 Ben Hunter flashes an enthusiastic thumbs-up after graduating from Project SEARCH last week at UMSL. Looking on is his fellow graduate Hannah Dietrich. Hunter and Dietrich were among seven graduates of the high school transition program, which was born out of a collaboration between Patricia Kopetz, the E. Desmond Lee Endowed Professor of Education for Children with Disabilities at UMSL, and Epworth Children & Family Services in Webster Groves, Mo.
Through the project, eight participants between 17 and 21 years old, all of whom were diagnosed on the autism spectrum and with related learning differences, served as interns and worked a variety of jobs on campus. UMSL graduate students and a job coach from Epworth and Vocational Rehabilitation of Missouri supervised the interns.
"We realized there was a huge need for something to help transition students with significant learning challenges from school to the work force," Kopetz told UMSL Magazine for the spring issue. "We wanted to fulfill that need and offer a place that could help these students learn the skills that help them become more independent and gainfully employed."
The photograph was taken by UMSL photographer August Jennewein and is the latest to be featured in Eye on UMSL.

Short URL: https://blogs.umsl.edu/news/?p=38859