Most Influential Business Women include 4 UMSL alumnae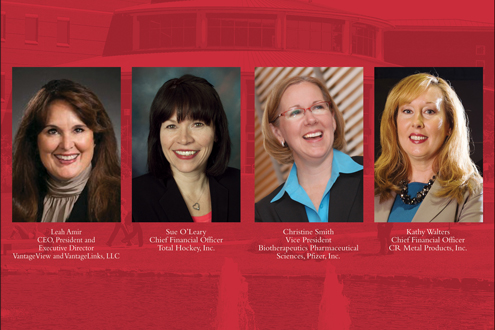 Four University of Missouri–St. Louis alumnae are among the Most Influential Business Women, according to the St. Louis Business Journal. The weekly newspaper's annual list recognizes St. Louis female business leaders representing industries ranging from finance to health care.
The UMSL alumnae honorees include:
• Leah Amir, BA biology 1976 and MS biology 1980
• Sue O'Leary, BSBA 1988
• Christine Smith, BA biology 1981
• Kathy Walters, BS accounting 1998
Amir is the chief executive officer of VantageLinks and XCellCure LLC and executive director of Institute for Quality Resource Management. The newspaper reports that she was captivated by science as a child and went on to become the first female microbiologist hired by Mallinckrodt. 
O'Leary is the chief financial officer at Total Hockey Inc. The CPA worked her way up the ranks at a couple of accounting firms and Wallis Cos. before joining Total Hockey, a company expected to top $45 million in sales this year, according to O'Leary's Business Journal profile.
Smith is the vice president of Biotherapeutics Pharmaceutical Sciences for Pfizer. After stints at Monsanto and Pharmacia, the newspaper said she now oversees a team of scientists responsible for developing biologics that can treat pain and growth hormone deficiencies in children. 
Walters is the CFO for C.R. Metal Products Inc. She grew up studying her father as he ran his CPA firm, later worked for Enterprise and is credited by the Business Journals for helping to turn around a slumping C.R. Metal to make it competitive in a more-global market.
Visit the St. Louis Business Journal website for a complete list of Most Influential Business Women.

Short URL: https://blogs.umsl.edu/news/?p=40072