Eye on UMSL: For the children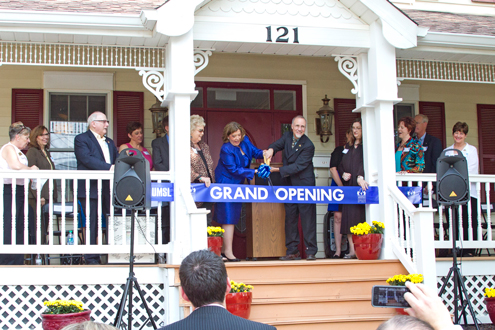 Jerry Dunn, director of the Children's Advocacy Services of Greater St. Louis at UMSL, and UMSL Chancellor Tom George cut the ribbon Friday during the grand opening of CASGSL's third location in Kirkwood, Mo.
The new location consists of two homes. The bigger house holds staff offices, interview rooms and therapy space. The smaller house will be used as the "mock house," a training tool for UMSL students to simulate home visits.
"The mock house will give our students the chance to go on a home visit of a reported child abuse or neglect case," Dunn said. "Once they reach the mock house, they will be greeted by actors and monitored by cameras. This experience will give UMSL students a chance to really understand what a home visit is like and to look for signs of abuse and neglect. Afterward, they will be able to review how they did by watching the visit back with an instructor."
KMOV (Channel 4) news anchor Sharon Reed walked through the new location this week.
CASGSL has two other centers, the main location on UMSL's South Campus and an office on West Pine Boulevard in the Central West End neighborhood in St. Louis. The centers provides forensic interviews and ongoing treatment for children ages 3 through 17 who have been the victims of child abuse and neglect. It is one of only two child advocacy centers affiliated with a university.
The photograph was taken by UMSL photographer August Jennewein and is the latest to be featured in Eye on UMSL.

Short URL: https://blogs.umsl.edu/news/?p=40452