Eye on UMSL: Between classes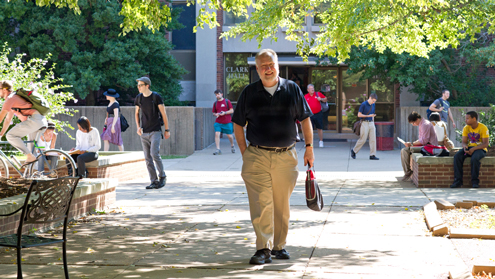 Dave Robertson, Curators' Teaching Professor of Political Science at UMSL, walks across the Quadrangle on North Campus to his office in the Social Science & Business Building Tower following one of his classes in Clark Hall. Robertson's courses this semester include Introduction to American Politics and Environmental Politics.
The news media also frequently uses Robertson as a source in discussing political issues. He was quoted recently in a KMOX (1120 AM) story about the Carpenters Union cutting ties with St. Louis County Executive Charlie Dooley and in a St. Louis Public Radio | 90.7 KWMU story about the start of Missouri's 2013 veto session.
The photograph was taken by UMSL photographer August Jennewein and is the latest to be featured in Eye on UMSL.

Short URL: https://blogs.umsl.edu/news/?p=40825