English professor's book lands at No. 2 on local best-seller list
When looking over last week's best-sellers book lists in the St. Louis Post-Dispatch, a name familiar to the University of Missouri–St. Louis community stood out. Sally Barr Ebest, professor of English and director of the Gender Studies program at UMSL, was listed alongside her new book, "The Banshees." The book came in at No. 2 on the list of top 10 books for adults sold at area independent bookstores (Left Bank Books, Main Street Books and Subterranean Books).
"I'm in good company; only Dave Eggers has sold more in this category," Ebest said.
Eggers is the critically acclaimed author of the best-selling memoir "A Heartbreaking Work of Staggering Genius" and founder of McSweeney's. His new novel, "The Circle," was the lone book to best Ebest's "The Banshees" for local adult independent book sales last week.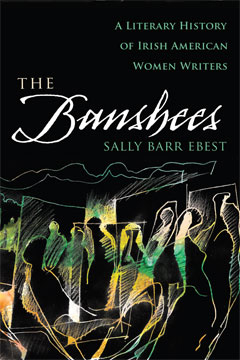 The full title of Ebest's book is "The Banshees: A Literary History of Irish American Women Writers." Syracuse University Press published the book this month. It explores the feminist contributions of many prominent Irish American women writers including Mother Jones, Kate Chopin, Margaret Mitchell, Gillian Flynn, Jennifer Egan and Doris Kearns Goodwin.
Ebest's research interests include teaching as a feminist, contemporary Irish and Irish-American women writers, role of feminism in Ireland and the United States and feminism and Catholicism in contemporary society. She co-wrote or wrote "Writing from A to Z," "Reconciling Catholicism and Feminism," "Too Smart to Be Sentimental: Contemporary Irish American Women Writers," "Writing With: Collaborative Teaching, Learning and Research" and "Changing the Way We Teach."

Short URL: https://blogs.umsl.edu/news/?p=42377