UMSL historian surveys St. Louis' guiding spirit
In St. Louis' nearly 250 years of existence, the Gateway City and the surrounding region have experienced many science and technology milestones. Those advances have shaped a port city into one of the United States' most powerful manufacturing hubs and home to the "Biobelt."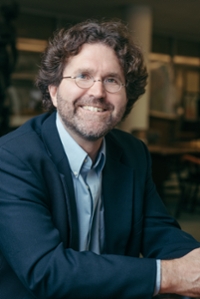 Kevin Fernlund, professor of history at the University of Missouri–St. Louis, explored St. Louis' evolution in the sciences and challenges faced through decentralization in his Field Notes keynote lecture, "St. Louis: Gateway to Infinity," and St. Louis Beacon commentary "Nothing impossible: The guiding spirit of St. Louis." He touched on key roles St. Louis played in the Industrial Revolution, the Manhattan Project and aviation. He also discussed the important role collaboration and support played in furthering science in St. Louis.
"There was a reason Charles Lindbergh's custom-built monoplane, which made the first nonstop flight across the Atlantic Ocean in 1927, was named Spirit of St. Louis," Fernlund said. "Without St. Louis capital, 'Lucky Lindy' would never have flown into the history books."
He further equated Lindbergh's plane to science in St. Louis. Science, he said, was expensive then and it remains so now.
"And despite the romantic image of the lone scientist, toiling in his laboratory late into the night, modern science is very much a cooperative undertaking and requires, at the very least, steady institutional support," Fernlund said. "The wealth of St. Louians supported two large universities – Washington University and St. Louis University – and, later, this wealth supported a number of other area institutions of higher learning, including my own, the University of Missouri–St. Louis, which was founded in 1963." 
He listed several examples of area universities supporting research, including the Whitney R. Harris World Ecology Center at UMSL. Fernlund also pointed out that the St. Louis "Biobelt," which he compared to California's Silicon Valley, boasts more than 400 plant and life science companies and the largest concentration of plant science PhDs in the world.
A portion of Fernlund's keynote speech can be read on the St. Louis Beacon website. The Beacon, The Pulitzer Foundation for the Arts and St. Louis Public Radio | 90.7 KWMU presented Field Notes, a weekend-long celebration of science and art in Grand Center that explores the ways the built environment and natural world interact. Along with Fernlund, Fields Notes featured experts in the fields of art, geology, botany, architecture, design, archaeology and astronomy.
Fernlund specializes in the history of the American West, exploration and the concept of "big history." The latter folds natural history into human history for a single narrative that incorporates science, social science and humanities.

Short URL: https://blogs.umsl.edu/news/?p=42680