Olympic champ inspires MADCO's season opener 'Uprising'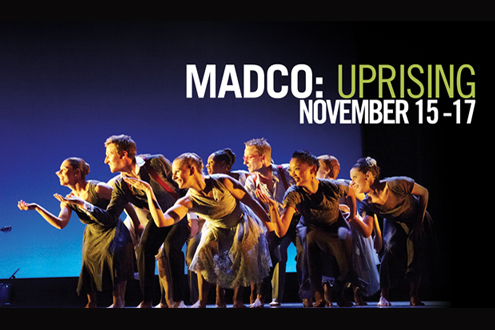 MADCO will kick off its 2013-14 season with a production inspired by Olympic legend and East St. Louis, Ill., native Jackie Joyner-Kersee.
The resident dance company at the University of Missouri–St. Louis, will perform "Uprising" at 8 p.m. Nov. 15 and 16 and at 2 p.m. Nov. 17 at the Blanche M. Touhill Performing Arts Center.
Joyner-Kersee was the first American to win gold for the long jump. During her Olympic career she won three gold medals, a silver and two bronzes. The dance piece perfectly highlights her power and grace. When Joyner-Kersee attended a rehearsal in September she was thrilled with what she saw.
The St. Louis Post-Dispatch highlighted the Joyner-Kersee inspired performance in the newspaper's fall arts guide.
Jennifer Archibald of Arch Dance Company in New York choreographed the dance piece. Her diverse style brings together classical dance training with the intensity and high energy of funk and hip-hop.
Rounding out the program will be "Land's Edge," a mesmerizing and haunting piece that was commissioned for MADCO and created by Pilobolus, the world-renowned body-bending dance troupe. Audiences will also see three world premieres by choreographers Mikey Thomas, Lindsay Hawkins and James Robey.
Tickets are $15-$25 and can be purchased at the box office, online at touhill.org or by phone at 314-516-4949.
"Uprising" was partially underwritten by Sports Medicine and Training Center of St. Louis.
Click here or below for a preview of MADCO dancers performing the Joyner-Kersee piece.
Media coverage:
St. Louis Post-Dispatch

Short URL: https://blogs.umsl.edu/news/?p=42827