Eye on UMSL: Global discussion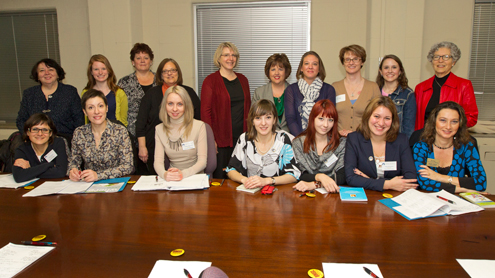 Russian delegates from the Open World Program visited with students and faculty from UMSL's School of Social Work on Nov. 21. The visitors were hosted by the World Affairs Council of St. Louis and included seven delegates focusing on social service issues and an interpreter. The visitors sat down with UMSL students and faculty to learn about social service programs and agencies as well as how resources and funding are provided, particularly in issues of children and families. The Open World Program brings young political and civic leaders from Russia and nine post-Soviet states to the United States for short-term professional trips.
Pictured are (standing, from left) Anna Tsadka, coordinator for the World Affairs Council; Katherine Kennison, UMSL social work student; Anne Zink, UMSL social work student; Joni Chester, UMSL social work student; Shirley Porterfield, associate professor of social work at UMSL; Patricia Rosenthal, professor and associate director of the School of Social Work; Lori Epley, UMSL student; Cindy Haller, UMSL social work student; Elizabeth O'Neal, UMSL social work student and Lois Pierce, professor and director of the School of Social Work. (Sitting, from left) Natalia Bayrak, Anna Taskina, Evgeniya Minibaeua, Tatjana Yermacova, Vareriya Solomenik, Yuliya Kapustina and Irina Bronstein La Rose.
The photograph was taken by UMSL photographer August Jennewein and is the latest to be featured in Eye on UMSL.

Short URL: https://blogs.umsl.edu/news/?p=43513