MIMH develops free suicide prevention app
WRITTEN BY TAMARA WILGERS AND CRAIG WEILBAECHER
Many people feel unprepared to talk to others about suicide. To make matters worse, there is a prevailing misconception that it is best not to engage people in a conversation about suicide as it might encourage them to act. However, research demonstrates that this is simply not true, and people who are considering suicide need and even appreciate direct communication about their feelings.
A new Suicide Lifeguard mobile app developed by the Missouri Institute of Mental Health at the University of Missouri–St. Louis and the Missouri Department of Mental Health is now available at no cost at the iTunes Store.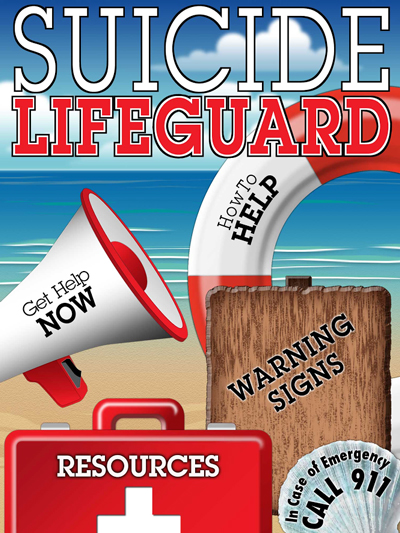 Suicide Lifeguard is a free app intended for anyone concerned that someone they know may be thinking of suicide. It provides information on:
How to recognize warning signs of suicide
How to ask about suicidal thoughts and/or intentions
How to respond
Where to refer someone
Features of the app include direct, immediate connection to the National Suicide Prevention Lifeline, direct access to national and Missouri resource websites and specific resources for military members and veterans, those who identify as LGBTQ, Spanish-speaking individuals, and those who are deaf or hard of hearing.
"I hope that folks who use our app will gain more confidence in their ability to talk to someone who may be having suicidal thoughts," said Joel Epstein, research assistant professor at the MIMH who led the app development team for programming and creative.
The suicide-prevention information included in the app was produced by the Missouri Suicide Prevention Project, a joint effort between the Missouri Institute of Mental Health and the Missouri Department of Mental Health. The project was made possible by a grant to the Department of Mental Health from Substance Abuse & Mental Health Services Administration including a subcontract to UMSL.
The Suicide Lifeguard iPhone and iPad app is currently available, as is an Android version.
People involved in the Missouri Suicide Prevention Project through the SAMSHA grant and the subcontract to UMSL include:
Principal Investigator: Dr. Joseph Parks, distinguished research professor, former director of MIMH
Project Director: Scott Perkins, project director
Evaluation:

Liz Sale, associate research professor
Collin Miller, research analyst
Ginny Weil, project development specialist
Julie Matthews; research specialist

App Development:

Joel Epstein, research assistant professor
Kelly Gregory, senior multimedia specialist
Kate Watkins, coordinator, program/project support

Tamara Wilgers is director of technology commercialization and economic development within the Office of Research Administration at UMSL, and Craig Weilbaecher is a licensing associate at UMSL.

Short URL: https://blogs.umsl.edu/news/?p=44818