Women's basketball selected to NCAA Tournament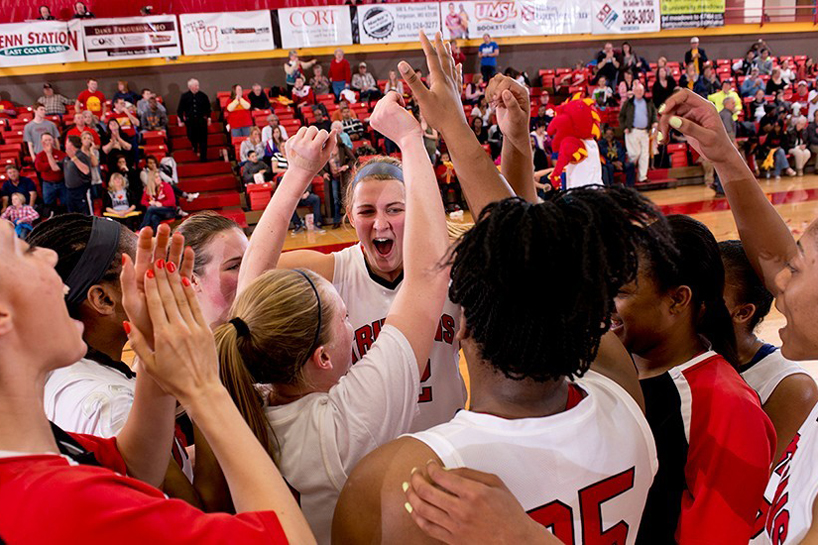 UPDATE (3/14/14): The UMSL Tritons were eliminated from the tournament after losing to Lewis University 69-64.
For just the second time in program history, and the first since the 1999-2000 season, the University of Missouri–St. Louis women's basketball team is going dancing. The UMSL Tritons were one of 64 teams selected to the NCAA Division II Women's Basketball Tournament, when the bracket was announced on Sunday night.
UMSL was selected as the No. 7 seed in the Midwest Region and will face No. 2 seed Lewis on Friday at 2:30 p.m. Drury was selected as the No. 1 seed and host of the eight-team regional, which will be played at the O'Reilly Family Event Center.
Other first-round pairings include No. 3 seed Indianapolis vs. No. 6 seed Wayne State at Noon, Drury vs. No. 8 seed Truman State at 6 and No. 4 seed Northern Michigan vs. No. 5 seed Quincy at 8:30 p.m.
Sunday's semifinals for the women will tip off at noon and 2:30 p.m., with Monday's championship set for a 7 p.m. start, with the winner moving on to the NCAA-II Elite Eight in Erie, Pa.
Lewis and UMSL met once during the regular season with the Flyers posting a 67-60 victory in St. Louis on January 11.
The Tritons enter the NCAA Tournament with a 21-7 overall record, having recorded the program's second-most victories.
Media Coverage:
KSDK (Channel 5)


Short URL: https://blogs.umsl.edu/news/?p=46478