From skateboards to center stage: Brandon Smith brings baritone to 'Mikado'
When Brandon Smith, a senior majoring in music education, arrived at the University of Missouri–St. Louis as a self-described "long-haired goofy skateboard kid," he didn't think he'd be a candidate for singing in operas.
He grew up playing guitar and had been in the jazz choir at Parkway West High School in Ballwin, Mo. He enjoyed singing in ensembles, but didn't have much exposure to opera until Stella Markou, associate professor of music, encouraged him to join her opera classes.
"Dr. Markou helped to open my mind to sing in a different way and use my talent in different capacities," Smith said.
Smith will be singing the role of Ko-Ko, the lord high executioner, in the UMSL Opera Theatre's production of "The Mikado." It will run March 14 and 15 at the Blanche M. Touhill Performing Arts Center. The performance will start at 7:30 p.m., and will be preceded by a lecture at 6:45 p.m. Admission is free.
"The Mikado" will mark the first time Smith has performed in a Gilbert and Sullivan production. Even though many operas involve tragic themes, "The Mikado" is more light-hearted, which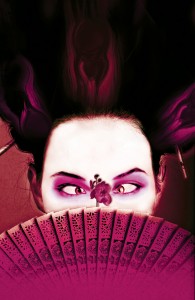 suits Smith well.
"It's comedy all the way through," Smith said. "I've been describing to it to people as the Monty Python of opera."
Although "The Mikado" is a classic, this production has several updates that audiences might not have seen before. This version takes place in futuristic Japan, with updated costumes to match. Many operas are also performed in Italian or other languages, but "The Mikado" is in English, which Smith feels will make it easier for the audience to relate to.
As an accidental opera lover, Smith has also worked to bring the art form to younger generations. He's started introducing his favorite arias to kids while student teaching at Bristol Elementary School in Webster Groves, Mo. Since classical music has been a popular choice for cartoon soundtracks, lots of kids are already familiar with opera, they just don't know what it is.
This will be a busy weekend for Smith. On March 16, he'll be performing in the Union Avenue Opera's Crescendo program, which provides scholarships and performing opportunities to music students from the St. Louis area.
During his time at UMSL, Smith has won numerous awards for his abilities. In 2012, he was named UMSL's Outstanding Musician in Opera and in 2013, he was named Outstanding Vocal Musician. On stage, he has been featured in UMSL's "Die Fledermaus" and "The Elixir of Love."
Smith is a brilliant and engaging performer who helps to bring out the best of everyone on stage, said Markou, who has directed Smith in numerous UMSL productions.
"He has an astute way of using the characterization of the roles he plays, dramatically through a powerful and gorgeous baritone instrument," Markou said. "You see him bring so many colors to the stage. As a consummate scene partner, he knows how to bring the best out of all the performers he works with, as well."
When he's not student teaching or rehearsing, Smith is a disc jockey for weddings and parties through Complete Music. His wife, Hannah, is also earning her teaching certificate through UMSL.


Short URL: https://blogs.umsl.edu/news/?p=46523