Explore the STEMosphere at UMSL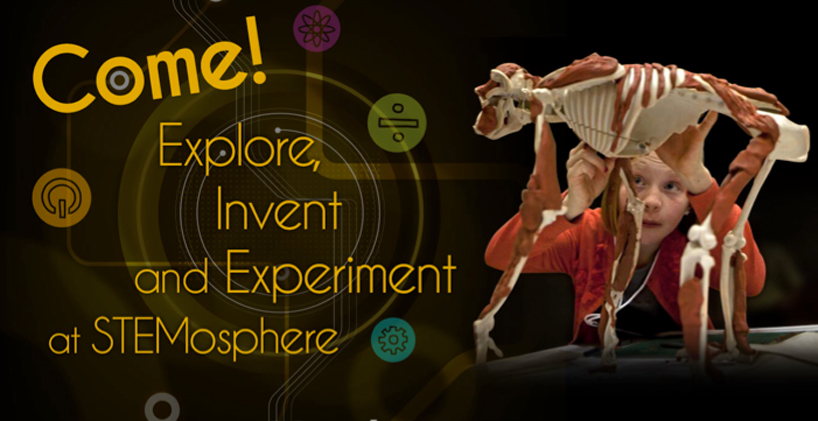 STEM – Science, Technology, Engineering and Mathematics – is all around us. From the science of the weather, to technology of computers and phones, from the engineering of roads (the constant construction we drive through every day) to the mathematics used to do our taxes or budget for groceries – we all use STEM all the time. That is why STEM education is of the utmost importance – for adults as lifelong learners and educators, as well as for children who will be shaping the future and becoming leaders in innovation.
The U.S. Department of Labor notes that 15 out of the 20 fastest growing occupations projected for 2014 require significant math and science preparation. And, the U.S. News Best Jobs list, based on expected openings, advancement opportunities, career fulfillment and salary expectations, is full of STEM-based careers.
Because STEM education is so valuable, there needs to be a method of making this focused education fun for children to promote and maintain interest. Further, STEM courses need to be taught by engaged and excited teachers who continue their own lifelong learning of STEM material and bring hands-on, minds-on activities to their classrooms.
Two University of Missouri–St. Louis events, STEMosphere and Share Fair from Morgridge Family Foundation, do just that. STEMosphere is a free event is open to all learners: kids through octogenarians, educators and administrators, families and communities, and any person who wants to explore, invent and experiment. And, for the first time, STEMosphere is coming to the St. Louis area.
The 2014 St. Louis hands-on adventure of STEMosphere includes areas to learn about anatomy with clay, experiment with the world's first touch Interactive Projector, explore cyber security programs, and take part in an environmental service-learning project.
In addition, Share Fair provides professional development workshops for educators to gain the tools needed to implement and advance STEM teaching and learning in the classroom.
Share Fair and STEMosphere, hosted by UMSL College of Education, will take place jointly on Saturday, March 29 at UMSL's Millennium Student Center. Check out their website for more information, and join the party to explore the STEMosphere.

Short URL: https://blogs.umsl.edu/news/?p=46488