8 photos of UMSL's Bridge Program graduating another class of scholars
For three years, Brianne Lang got up on Saturday mornings and attended classes in  Bridge Program Academies at the University of Missouri–St. Louis. For this O'Fallon Township, Ill., high school senior, her sacrifices are demonstrated in her success. The academies helped prepare her for the ACT exam where she scored a 28. And as she moves toward finalizing her college choice, she has been offered more than $200,000 in scholarships.
Brianne was one of 106 high-achieving seniors honored March 8 during the closing ceremony for the program.  More than 500 ninth through 12th graders along with their families, friends, civic leaders and community cheered them on.
Now in its 28th year, the Bridge Program provides year-round college access services for students and parents within the St. Louis community. The Saturday Academy meets two Saturdays a month, from October through March. It provides an intensive program for students in grades nine through 12. Students attend classes in mathematics, science, written communication, career assessment and college planning.
Bridge remains a highly successful program with 100 percent of participating seniors enrolling in  post-secondary institutions. This year's seniors were offered more than $1.5 million in scholarships. (Photos by August Jennewein)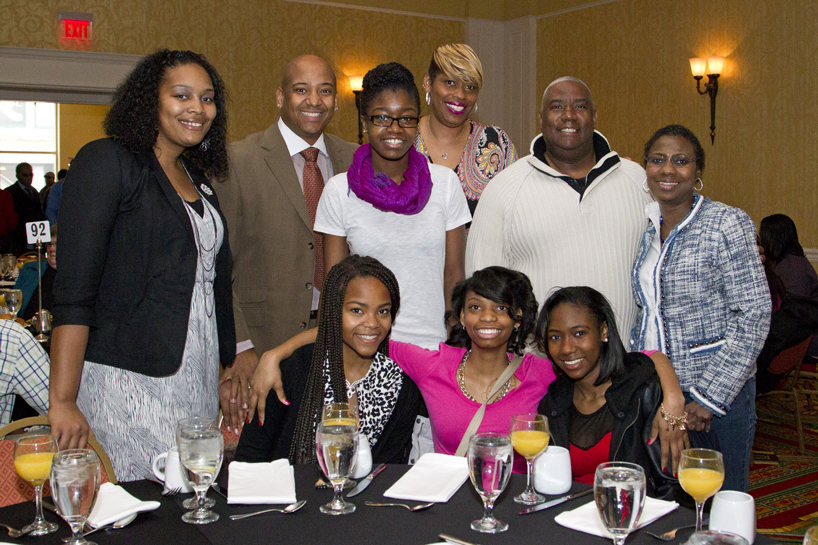 Four students from McKinley Classical Leadership Academy in St. Louis celebrated the Bridge Program's closing ceremony March 8 with family and friends: (from left, seated) Zoe Griffin, 10th grade; Mareah McCullough, 10th grade; Mykal Dean, 12th grade. Standing is Jamila Ricketts, 11th grade.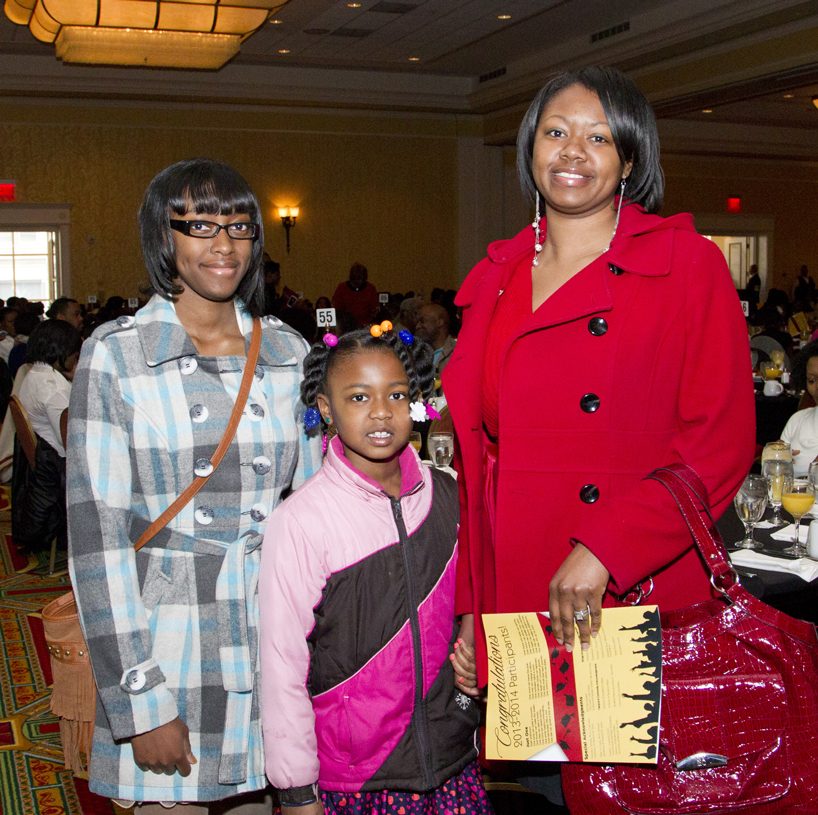 Ariana Walker, a 10th grader at Metro High School attended with her sister Serita Marshall and mother, Sahara Marshall.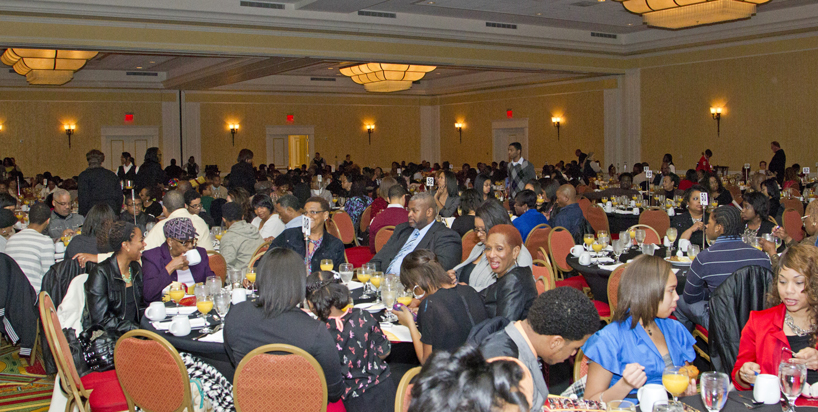 More than 1,500 people attended the UMSL Bridge Program's closing ceremony at the Renaissance Hotel downtown.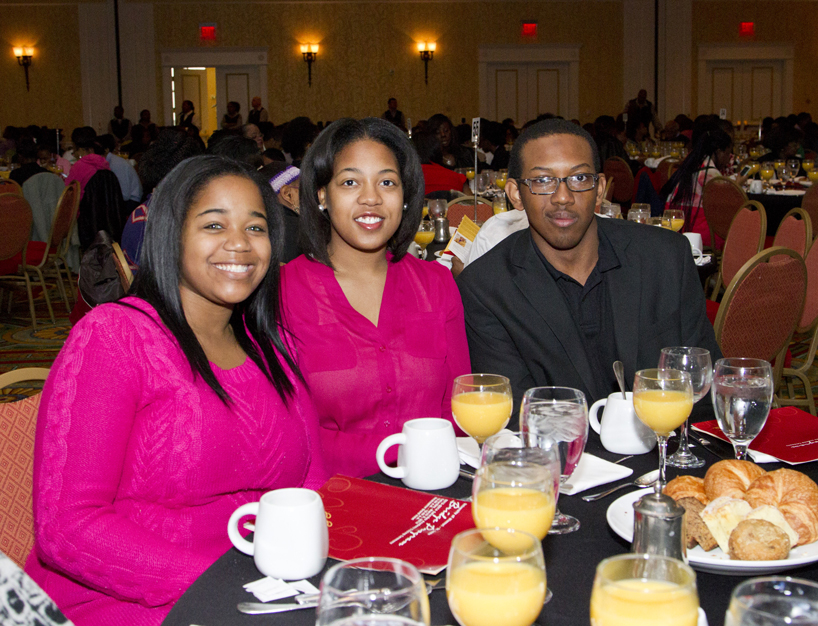 Sharing breakfast (from left) are 11th graders Christina Haymon, North County Tech High School, Florissant; Aneesha Davis, Cardinal Ritter College Prep High School, St. Louis; and Stanley Rice, North County Tech.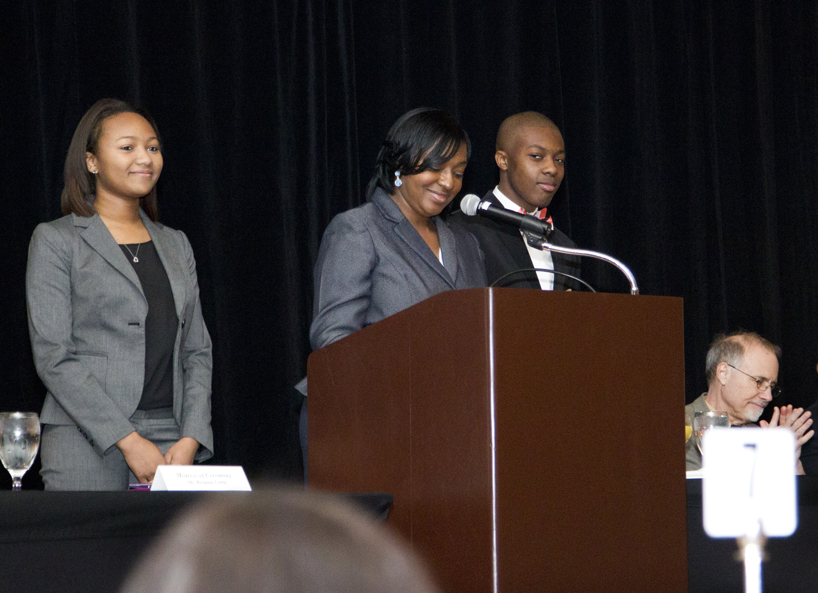 Assistant Dean of Students Natissia Small introduces the MCs Brianne Lang, O'Fallon Township (Ill.) High School and Kirkland French, Christian Brothers College High School.

UMSL administrators, Saturday Academy faculty and student presenters shared the head table.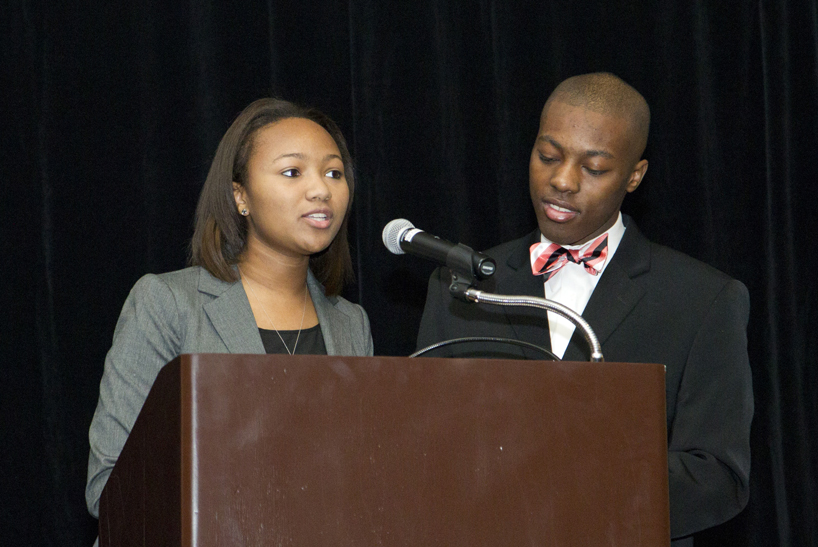 The young MCs, Brianne Lang and Kirland French, welcomed the crowd. More than 500 students from 41 public and private high schools attend the Bridge Program's Saturday Academies.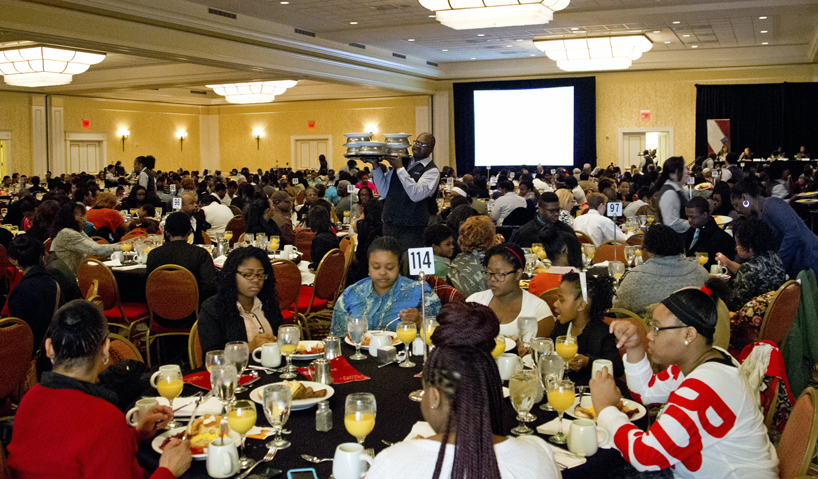 The Bridge Program's college access services are also open to parents who can attend the Parent Academy and parent support groups.


Short URL: https://blogs.umsl.edu/news/?p=46628