Eye on UMSL: Celebrating 250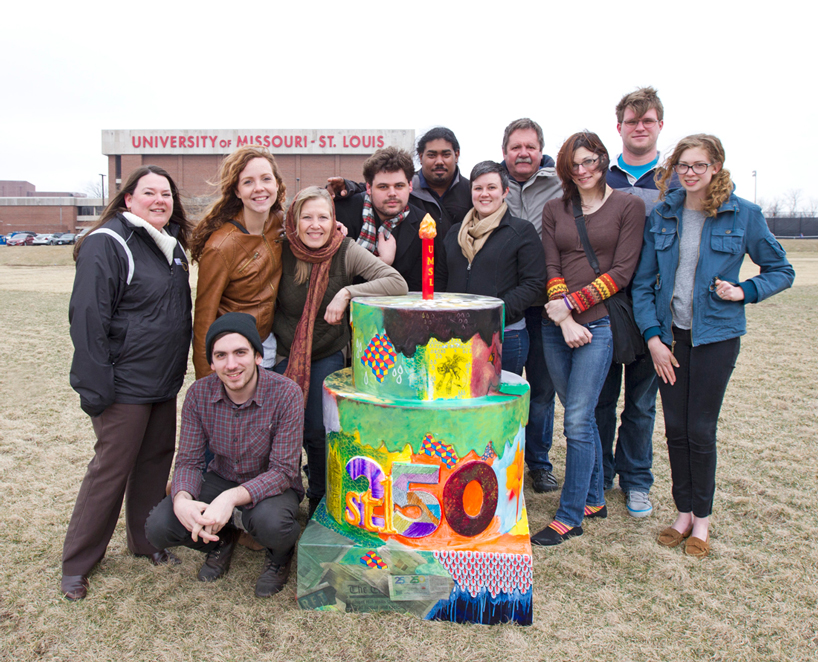 More than 250 sculpture cakes have been placed at strategic historic locations around St. Louis for Cakeway to the West, an area-wide public art exhibition in celebration of the city's 250th anniversary. Two cakes can be found at UMSL, including one painted by students of Jeffrey Sippel, associate professor of art and art history.
Pictured with the cake near the intersection of University Place and Mark Twain drives are (from left) Patricia Zahn, UMSL's manager of community outreach engagement, Seth Rodgers (kneeling), Caitlin Aasen, Sage Kuhlmann, Jeff Yeckel, Daniel Lee, Steph Banks, Sippel, Zoe Nicholson, Conor Flecke and Victoria Wattanaparuda.
UMSL's other cake is located in the St. Louis Mercantile Library and was decorated by library staff.
For more information on the Cakeway to the West, click here.
The photograph was taken by UMSL photographer August Jennewein and is the latest to be featured in Eye on UMSL.


Short URL: https://blogs.umsl.edu/news/?p=46961