Back-to-back! Softball defends GLVC title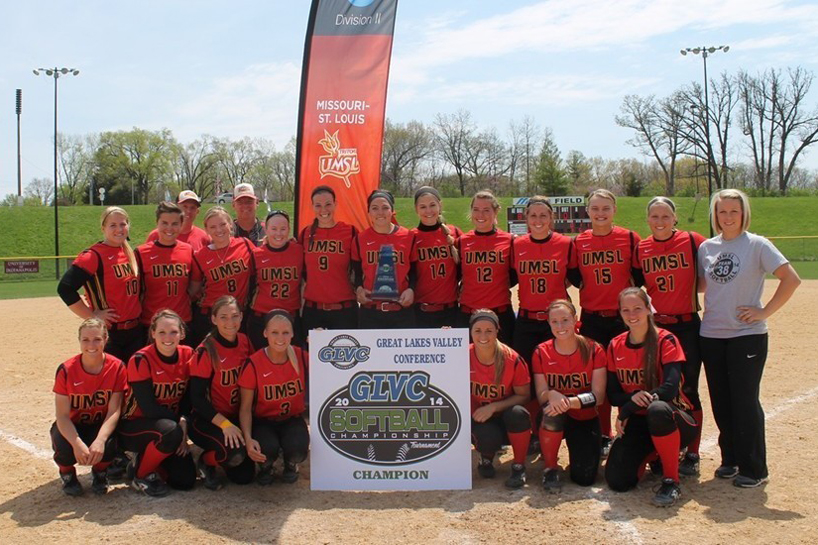 The No. 11 ranked University of Missouri–St. Louis softball team successfully defended its Great Lakes Valley Conference title on Sunday by defeating Bellarmine, 3-0, in the 2014 championship game.
Two-time GLVC Pitcher of the Year Hannah Perryman tossed her second no-hitter of the season and the third of her career, leading the No. 2 seeded UMSL Tritons to the victory over the No. 4 seeded Knights, while also recording 12 strikeouts. She improved to 25-5 in the circle, tying an UMSL single season record.
UMSL recorded a program-best 45th victory with the win, improving to 45-6 overall. The Tritons went 4-0 in the GLVC Tournament with wins over Illinois Springfield (1-0), #22 Truman State (5-0) and Bellarmine twice (3-2, 3-0) and has now won seven straight.
With the win, UMSL also receives the league's automatic bid to the NCAA Regional Tournament. UMSL was rewarded with the No. 1 seed in the NCAA Midwest Regional. (Click here for a tournament preview.) The Tritons will host one of two four-team brackets in the Midwest Region and will take on eighth-seeded Bellarmine on Friday at 2:30 p.m. at the UMSL Softball Field.
Offensively, UMSL tallied five hits, including a two-run home run by junior Katie Wood in the third inning. It is the second straight year Wood recorded a home run in the championship game as her walk-off last season gave UMSL the 2013 title.
Sophomore Katie Schultz drove in the first run of the game in the second inning with a two-out bases loaded single to left field.
Bellarmine threatened to score in the sixth inning, loading the bases with no outs on an error, a walk and another error, which was initially ruled a bunt single to third base before later being changed to the error. However, Perryman worked her way out of the jam by retiring the next three batters she faced. Perryman finished the tournament with a 0.32 ERA after fanning 22.0 innings, hurling 44 strikeouts, and registering three wins.
The championship is the third in the program. In addition to last year's title, the 1989 team won the 1989 MIAA Championship. It is also just the third GLVC championship for UMSL in any sport, with the 2003 baseball team winning the GLVC crown.


Short URL: https://blogs.umsl.edu/news/?p=48480