UMSL commencement: 5 ceremonies, nearly 1,600 graduates, 6 honorary degrees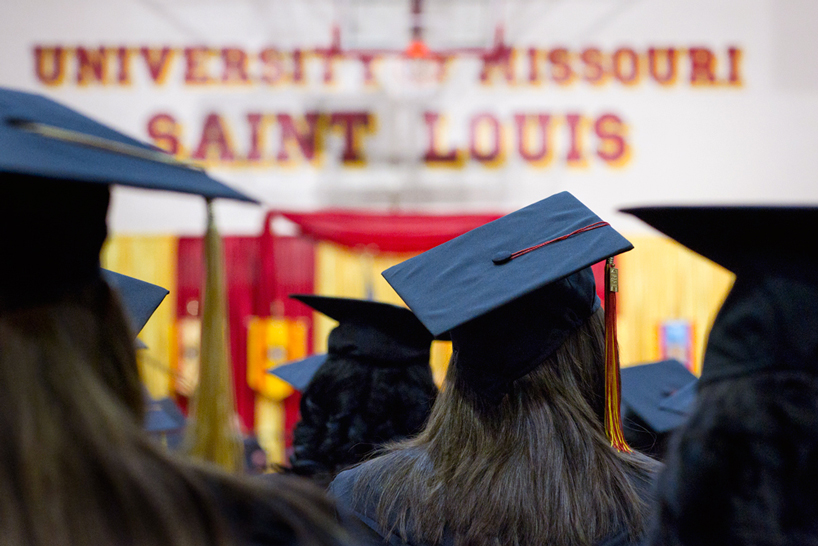 More than a thousand graduates, their families and friends moved on and off the University of Missouri–St. Louis campus May 17 and 18 in five commencement ceremonies celebrating the end of one stage in their lives and the beginning of another. Nearly 1,600 graduates will receive their diplomas this spring.
Commencement speakers delivered their addresses without a hitch. They included: Chris Krehmeyer, president and CEO of Beyond Housing; Joseph Bergfeld, BA political science 1970 and president of Pittsburgh Pipe Co.; Randy Sims, a motivational speaker; Kelvin Adams, superintendent of the St. Louis Public Schools; and Steve Burrows, retired Anheuser-Busch executive and adjunct professor with UMSL's International MBA program.
The six honorary degree recipients recognized at ceremonies this weekend share numerous qualities, but none as great as their passion for making the world a lot better for the rest of us.
All of the honorary degree recipients have strong ties to UMSL or the St. Louis region. By most measures, they are successful people and have received multiple awards in their fields. But, what sets them apart is a fervor, a commitment to excellence in their work and their communities
Elizabeth Gentry Sayad is an author, accomplished musician, fundraiser and community leader. She is a sixth-generation Missourian who has dedicated most of her life to preserving the region's French history and culture in extraordinary ways.
Sayad has worked with UMSL on numerous projects, none more significant than the Louisiana Purchase Bicentennial in 2004 with Chancellor Emeritus Blanche Touhill. She also was a founding member of the Missouri Arts Council and the St. Louis Arts and Humanities Commission and founding president of the New Music Circle.
In the complex pharmaceutical industry, Gary Jacob has long been known and respected as a leader in developing drugs to treat human diseases. In this industry, developing one commercially successful drug is a rarity – developing more than one drug is a truly unique accomplishment.
Jacob, who graduated from UMSL in 1969 with a bachelor's degree in chemistry, has more than 25 years of experience in the pharmaceutical and biotechnology industry across multiple disciplines including research and development and operations and business development. He has grown Synergy into a leading development-stage biopharmaceutical company that is developing novel drugs with the potential to treat millions of sufferers of gastrointestinal disorders and diseases. He has over 50 publications in peer-reviewed journals and holds 15 U.S. patents.
Patrick Gadell grew up in north St. Louis County, the youngest of six children of Depression-era parents. Attending UMSL was a necessity for his family because of its proximity and low cost. He earned a bachelor's degree from UMSL in 1973 and a law degree from St. Louis University.
Gadell, and his wife Marietta Abele, who graduated from UMSL in 1974, have never forgotten their dreams and aspirations as students. Both have created scholarships in their mother's names. Over the last several years, they have enlisted the help of family and friends and as a group have raised more than $250,000 in endowed scholarships to serve UMSL students in perpetuity.
At a time when most of his colleagues have retired, James Westbury's dedication to education remains as strong as ever. He holds a special place in UMSL's history as the last living member of the Committee of 28, a group of men and women assembled by the Normandy School District who played a key role in buying the former Bellerive Country Club and transforming it into the University of Missouri–St. Louis.
Westbury spent 37 years with the Normandy School District as an elementary and high school teacher, coach, principal, administrator and assistant superintendent. He was named superintendent in 1977 and retired in 1987. He continues to work as an educational consultant and has served on the St. Louis County Special School District Board of Education since 2000.
Benjamin and Susan Uchitelle are a truly remarkable pair, a husband-and-wife team that has been a prime mover of the St. Louis region for the past 40 years. They are being recognized for their service to education and their civic contributions to their community and the region.
Ben was a partner at Husch & Eppenberger LLC until 1977 when he became general counsel, executive vice president and part owner of consolidated Grain and Barge Company. He served for six years as alderman of the city of Clayton and then its mayor for 10 years.
He was a founder and active member of: Freedom of Residence, New City School, Forest Park Forever, Spirit of St. Louis Marathon and Central Reform Congregation. Ben is currently an adjunct professor at UMSL teaching business law and constitutional law in the College of Business Administration and the Pierre Laclede Honors College.
Susan became a household name in St. Louis starting in 1981 when she was appointed by the U.S. District Court to implement the Voluntary Inter-district Transfer Program. She was then appointed to direct the program, which lasted for 19 years until a settlement was reached and court supervision ended. The transfer program continues today with more than 5,000 students voluntarily transferring to suburban districts.


Short URL: https://blogs.umsl.edu/news/?p=49004