Eye on UMSL: Reaching out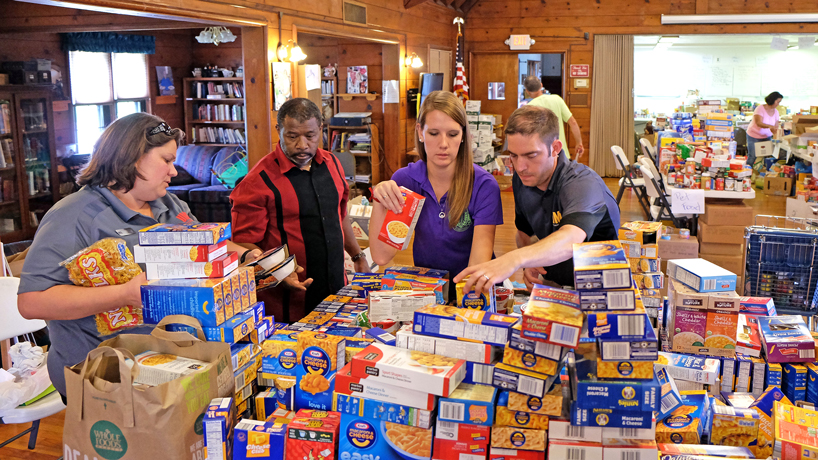 UMSL staff members (from left) Miriam Roccia, Derrick Holmes, Colleen Pace and Jonathan Lidgus deliver items Tuesday to St. Stephen's food pantry in Ferguson, Mo. The local food pantry has experienced a spike in demand as a result of recent events.
Over the lunch hour on Monday, students, faculty and staff contributed more than 850 canned and boxed food items – enough to overflow six large bins in the Millennium Student Center and Provincial House.
"Many members of our UMSL community are also members of the Ferguson community," said Roccia, assistant dean of students. "More and more students and staff have asked how they can help. One of my colleagues remembered seeing a news story about St. Stephen's, and we immediately went to work engaging some of the same students who had been in our offices earlier in the week wanting to 'do something.'"
In addition to food, there is a need for diapers, wipes, personal hygiene items, baby food and paper goods. Another collection at UMSL is set for Aug. 22 to 26. Items will be accepted at multiple drop-off locations across campus, including residence halls and apartments as well as the MSC. For more information about the drive, email campuslife@umsl.edu, call 314-516-5291 or view the First Days for Ferguson flier.
The photograph was taken by UMSL photographer August Jennewein and is the latest to be featured in Eye on UMSL.


Short URL: https://blogs.umsl.edu/news/?p=51074