Magazine honors UMSL with national diversity award two years running
For the second year in a row, the University of Missouri–St. Louis has been named a recipient of the Higher Education Excellence in Diversity (HEED) award from INSIGHT Into Diversity magazine, the oldest and largest diversity-focused publication in higher education.
UMSL is one of just two Missouri institutions among the 83 U.S. colleges and universities on this year's list, which recognizes those that demonstrate an outstanding commitment to diversity and inclusion.
"We are making progress, and I think most people feel welcome and embraced at UMSL," said Deborah Burris, chief diversity officer for UMSL. "We attract a broad spectrum of students, and that diversity is also represented in our staff and faculty. This is an opportunity to show the world just a small snapshot of who we are."
Burris noted that UMSL is diverse not only in terms of race, ethnicity and socioeconomics but across the board, with the campus attracting many international students, people with disabilities, members of the LGBT community, military veterans and first-generation college students.
"You put all of this together, and that's who we are," she said.
A commitment to access and opportunity for all people is not a new concept at UMSL, but there are still areas for growth as the university works to recognize and appreciate the contributions of everyone, added Chancellor Tom George.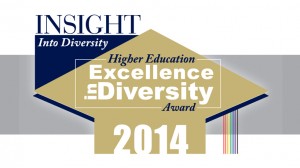 "The external recognition is gratifying in that it acknowledges the many ways in which UMSL is a welcoming, inclusive community," George said. "The cultural diversity council we formed several years ago gives our students, faculty and staff a real voice on these matters and has enabled us to identify priorities going forward."
Burris, who joined UMSL in 1991 and leads the university's Office of Equal Opportunity and Diversity, said one of the most rewarding parts of her job is observing moments on campus where someone from one background really comprehends where a member of a different demographic is coming from.
"When you see the light bulb come on, when you see people stop and think, 'Yes, I really get it,' and they really have understood the issues and concerns voiced by someone else, that is what pleases me most."


Short URL: https://blogs.umsl.edu/news/?p=51998