Eye on UMSL: GardenVille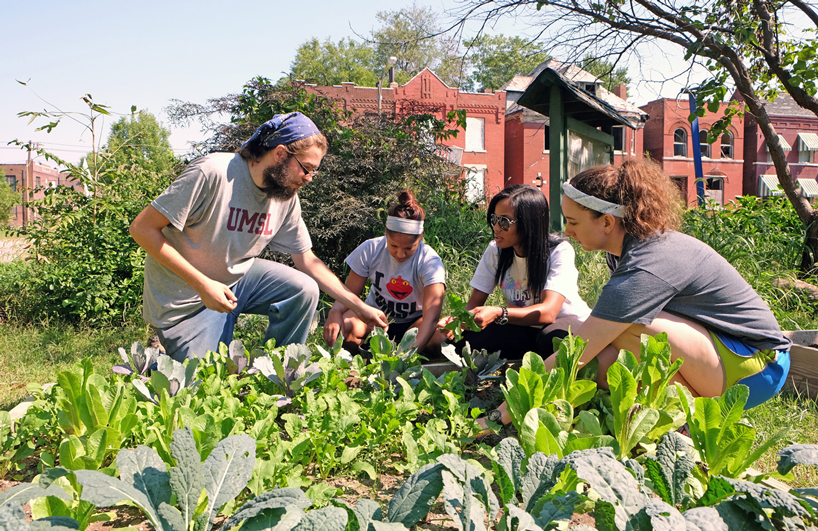 Through the Catholic Newman Center, UMSL alumnus Matthew Hubbard and student volunteers (from left) Janelle Miller, a sophomore criminology and criminal justice major, Sharee Chambers, a junior nursing major, and Meagan Burwell, a freshman biology major, work in the community garden known as GardenVille. The group is picking arugula, as well as red cabbage, romaine lettuce, dinosaur kale and some wild wood sorrel (which has a lemony taste).
Hubbard, BA history 2011, is one of five individuals who oversee the garden, which fills a plot of St. Louis land in the Ville neighborhood.
"We seek to fill the Ville with healthy, chemical-free food," Hubbard said. "We train youth in practical skills and politeness. We beautify the neighborhood and take pride in its appearance."
He said the garden group recently received a $10,000 grant for a 23-garden network. That will include:
• three community gardens (GardenVille, Hope Community Garden and Sweet Sensations Garden)
• 10 backyard resident gardens
• 10 vacant lot gardens
• composting, seedling and preservation efforts.
The photograph was taken by UMSL photographer August Jennewein and is the latest to be featured in Eye on UMSL.


Short URL: https://blogs.umsl.edu/news/?p=52293