Eye on UMSL: Storyteller extraordinaire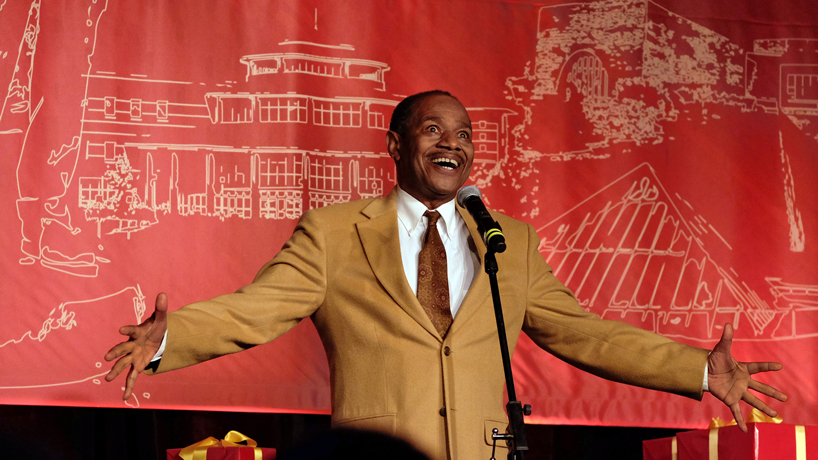 Robert "Bobby" Norfolk, BGS 2003, wowed a crowd of more than 800 people during a special presentation at the University of Missouri–St. Louis' annual Founders Dinner Sept. 26.
Norfolk, one of five recipients of UMSL's 2014 Distinguished Alumni Award, returned to the stage shortly after being honored to offer guests a glimpse of the performing skills that have made him one of America's premier storytellers.
Over the course of just a few short minutes, Norfolk brought to life characters ranging from Earl Hines and Duke Ellington to John Coltrane and Miles Davis with an engaging, high-speed tale. Norfolk combined his poetry, humor and antics to weave together a one-of-a-kind history of "the jazz man."
Norfolk began his career as a stand-up comedian in the 1970s at local St. Louis comedy clubs and as an actor with the St. Louis Black Repertory Company. He first started to tell stories when his son was a toddler.
"I began buying books to read to him at bedtime, and as I would read these stories, vivid pictures would appear in my mind," said the three-time Emmy Award winner. "I soon started doing my own versions of the stories, giving my son a real theatrical performance."
Now, Norfolk travels nationally and internationally, inspiring audiences of all ages and spreading joy through the oral tradition of telling and listening.
Another highlight of the Founders Dinner event was the debut of a short video showcasing a handful of new UMSL students and their reasons for choosing UMSL.
The photograph was taken by UMSL photographer August Jennewein and is the latest to be featured in Eye on UMSL.


Short URL: https://blogs.umsl.edu/news/?p=52341