In print: Recently published books by UMSL faculty
Approaches to Teaching Chaucer's Canterbury Tales, Second Edition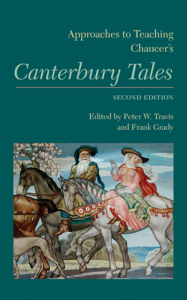 CO-EDITED BY FRANK GRADY
Modern Language Association of America, May 2014
This long-awaited second edition covers the diverse perspectives and methods instructors use to teach the "Canterbury Tales." It considers the evolution of Chaucer scholarship over the past 30 years, as well as the wide variety of contexts in which students encounter the poem. Perennial topics such as class, medieval marriage, genre and tale order are accompanied by modern considerations of violence, postcoloniality, masculinities, race and food in the tales. Edited by Professor of English Frank Grady, the first section reviews materials and the second, approaches. The other editor is Peter W. Travis.
Dimensions of African and Other Diasporas
CO-EDITED BY RUTH IYOB
University of West Indies Press, May 2014
Professor of Political Science Ruth Iyob's book of scholars' essays provides a panoramic view across time and geographical space that explores the inherent variety and formation of African diasporas. The essays build a case for the understanding of the diaspora as a responsive space, sensitive to specific geographic location as well as social, political and economic circumstances. European and Asian diasporas are also touched on. The other editor is Franklin W. Knight.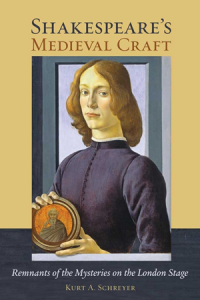 Shakespeare's Medieval Craft: Remnants of the Mysteries on the London Stage
BY KURT SCHREYER
Cornell University Press, August 2014
Kurt Schreyer, associate professor of English, offers new insight into the long- debated connection of Shakespeare's plays to the late medieval English biblical drama tradition known as the mystery plays. Through close study of the Chester Banns, a 16th-century proclamation announcing the annual performance of the mystery plays, Schreyer draws parallels to Shake- speare's similar use of theatrical objects and spaces. His analysis reveals that these tactics did not simply precede Shakespeare, but were entwined with the poetry of his plays to create new theatrical masterpieces.
The Settler in Missouri by Adelbert Count Baudissin
TRANSLATED AND INTRODUCED BY STEVEN ROWAN
Washington (Mo.) Historical Society, August 2014
Published in 1854 and first written in German, "The Settler in Missouri" served as a guide for German-speaking immigrants to American culture and the rural life in Missouri. Professor of History Steven Rowan's translation, the first in English, allows a unique perspective into pre-Civil War Missouri and the early immigrant experience. Count Baudissin is known for having founded the Courier, Washington, Mo.'s first newspaper. This is the fifth book in the Washington History Series.

This list was originally published in the fall 2014 issue of UMSL Magazine.

Short URL: https://blogs.umsl.edu/news/?p=54191