UMSL lays foundation for leaders
A strong work ethic and business acumen pushed Joe Gorder up the ladder at Valero Energy Corp., where he was named president and chief executive officer in May.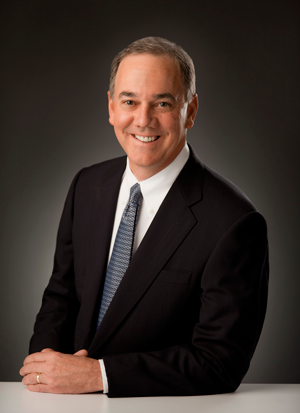 He took the same hard-work and business-minded approach as a student at the University of Missouri–St. Louis. Gorder, who earned a bachelor's degree in business administration in 1979 with an emphasis in marketing, chose UMSL because of its strong program and flexibility.
"UMSL was the right school for me," he says. "The broad availability of classes made it possible for me to work 30 to 40 hours per week and graduate on time. I could afford it and it was the best value."
His promotion makes him the second UMSL undergraduate alumnus listed as CEO of a top 20 company in the Fortune 500 ranking. George Paz, president and CEO of Express Scripts, is the other alumnus on that list. UMSL and Cornell University are the only universities with two undergraduate alumni CEOs in the top 20.
Gorder didn't slow down after graduating from UMSL. He held several positions before joining Valero, a San Antonio-based international manufacturer and marketer of transportation fuels, petrochemical products and power with 16 refineries throughout the world.
"We make products that make people's lives better," says Gorder, who attributes his company's success to having the best team in the fuels refining and marketing business. "I believe that a leader is one who serves. I surround myself with talented people and give them the latitude to do their jobs without micromanaging them. I am responsible for our performance when things don't go so well and proud of our team when things do."
Gorder chose UMSL after graduating from Pattonville High School in Maryland Heights, Mo. The middle child and only son of a St. Louis Metropolitan Police officer and private-school teacher, he followed in his older sister's footsteps and chose UMSL for its great programs and affordability.
"My entire focus was on learning 'how' to do something, graduating and getting a job," Gorder says. "I learned business fundamentals – accounting being the most important. Having worked during my undergraduate studies at UMSL, I learned to balance many activities. This is a critical skill for managing a large, diverse business."
Paz echoes Gorder's praise for a UMSL education as preparation for business leadership.
"UMSL was a great preparation for what I would experience in the business world, and it opened my eyes to opportunities and a future that I wouldn't have otherwise imagined," says Paz, who earned his bachelor's degree in business administration and accounting in 1982.
Prior to joining Valero, Gorder served as vice president of business development at Diamond Shamrock.
To Gorder, his most successful partnership has been his marriage of 32 years, his two children and his two grandchildren – with a third on the way.
"God blessed me with a great family!" he says.

This story was originally published in the fall 2014 issue of UMSL Magazine.

Short URL: https://blogs.umsl.edu/news/?p=54333