The Big Man on Campus can sing
There can be only one Big Man on Campus, and this year it's Mason Scott, junior music major with an emphasis in vocal performance at the University of Missouri–St. Louis.
A traditional homecoming festivity, the BMOC competition took place last Wednesday night in the Millennium Student Center. It encompassed penny wars, bucket wars and a pageant with four categories: sportswear, talent, formal attire and a Q-and-A. Student organizations sponsored one competitor to win the BMOC title, and the women of Alpha Xi Delta elected Scott. He is active in the Greek community as president of the Phi Mu Alpha Sinfonia chapter, a music fraternity. All proceeds from the competition were donated to Girls Inc., a nonprofit youth organization in north St. Louis County.
Get the inside scoop from the man himself, as UMSL Daily catches up with Scott on pageantry, his new title and his time at UMSL.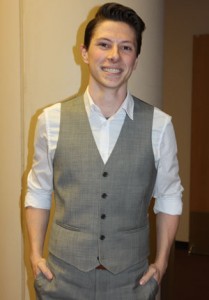 How did you feel when you learned you had won?
Pretty surprised. The AXD ladies and I had definitely worked hard to prepare for it, but the other four contestants were spot-on with their acts. There was some hilarious dancing, improvised painting and some really impressive soccer tricks.
Which song did you perform for your talent, and did you practice strutting your stuff or did you wing your performance?
I played piano and sang "Hold On" by Michael Bublé. I definitely practiced for the Bublé song, but the rest of the night was improv. The five of us got a bit nervous backstage when we realized we had no idea what to do after we answered our question or finished our talent.
What was your favorite outfit of the night?
Wearing a suit is always great, but the sportswear was my favorite. People might have thought for just a second that I was athletic.
What does being Big Man on Campus mean to you, and why is it important to be involved on campus?
Being BMOC means being involved in as many campus activities as you can be and helping anyone you're able to. We have a ridiculous amount of talent on this campus, and Alpha Xi Delta, res life, the Office of Student Life and countless others deserve all the attention for it. Also, being active in different things on campus exposes you to the spectrum of people you can help and who can help you. There's no problem you'll have as a student here that someone on campus can't help you solve.
What has your experience at UMSL been like?
Excellent. The music department has some of the kindest people you'll meet, and after some time here, just walking into the MSC starts to feel like home. Also, any place where you can dress silly, play music for a big crowd and raise a huge amount of money for a charity, then wake up the next morning and go to class as if that were a common thing to do – that's a place you'll want to stay.


Short URL: https://blogs.umsl.edu/news/?p=55559