'Hansel and Gretel' brings scrumptious visuals to the opera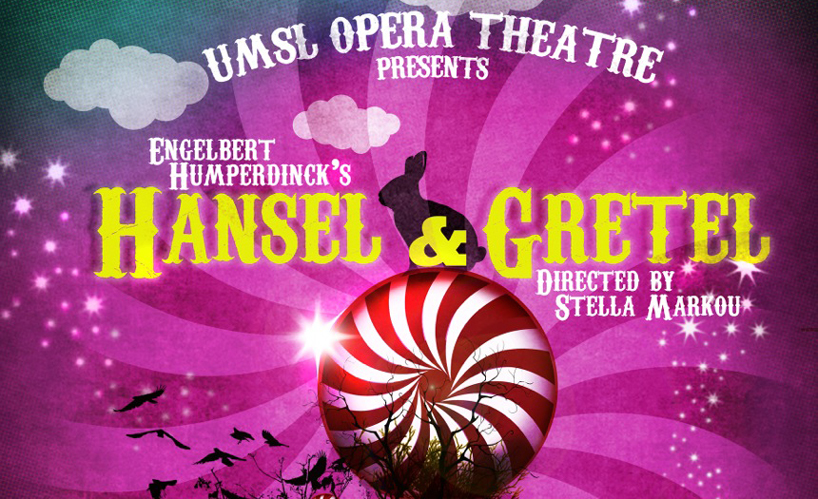 Audiences will be treated to a journey through a glittering pop-up book courtesy of the University of Missouri–St. Louis' production of "Hansel and Gretel."
When performers with the UMSL Opera Theatre take the stage March 13-15 at the Blanche M. Touhill Performing Arts Center, they're not only taking audiences on a fantastic journey. They're also partaking in an award-winning program that is St. Louis' only full university opera. Stella Markou, associate professor of music and director of vocal studies at UMSL, has led the opera since its inception seven years ago.
Engelbert Humperdinck's "Hansel and Gretel" was originally a Christmas opera, but was modified to suit the production's spring timing. Instead of children turning into gingerbreads, they'll turn into giant Peeps. With appearances by renegade fairies and angels, Markou hopes to create a wonderland on stage with the look of a three-dimensional pop-up book.
"I want this to be a very interactive show where people allow their imaginations and their inner child to come out and play," Markou said. "I hope to capture the childlike wonderment of the story through the beauty of the music and magnifying the archetypes of my heroes and heroines."
Markou started at UMSL producing scenes with the UMSL Opera Theatre and built the program into performing full opera productions. She received validation for her work when last spring's production of "The Mikado" won second place in the National Opera Association's Opera Production Competition. The win puts UMSL Opera Theatre on par with larger and more established opera programs, such as Markou's alma mater, Oberlin Conservatory of Music in Ohio, which took the same prize in 2013.
"We want to be nationally competitive," Markou said. "This award has basically said we're playing with the big boys, which is very satisfying."
"The Mikado" was the fourth full opera produced by the program after Markou's arrival at UMSL, and she entered the competition to receive feedback.
"I wanted to know what colleagues working at institutions with well-established programs and countless years of experience thought of my work so I could become a better director," she said. "When I found out, we placed second, I teared up because I was in shock."
As director of the UMSL Opera, Markou not only choreographs the opera, but also builds sets, designs costumes and touches up performers' makeup before going on stage. In person, Markou is a flurry of energy. It's clear she works hard and expects the same from her students.
"I believe in my students,"she said. "I believe in our work, and I believe in our process. Our process is grueling and our process is intense, but that's how you make great art."
UMSL's Opera Theatre is funded by the university's Student Government Association and the Department of Music. For "The Mikado" Glen Anderson, assistant professor of technical theater and design, provided lighting services.
View the 2014 production of "The Mikado" here:
"Hansel and Gretel" runs at 7:30 p.m. March 13 and 14 and 2 p.m. March 15 at the Blanche M. Touhll Performing Arts Center. Tickets are $5. Performances are preceded by a 45-minute informational lecture. Visit www.touhill.org for more information.


Short URL: https://blogs.umsl.edu/news/?p=55804