Perryman's perfection earns her Louisville Slugger/NFCA DII National Pitcher of the Week honors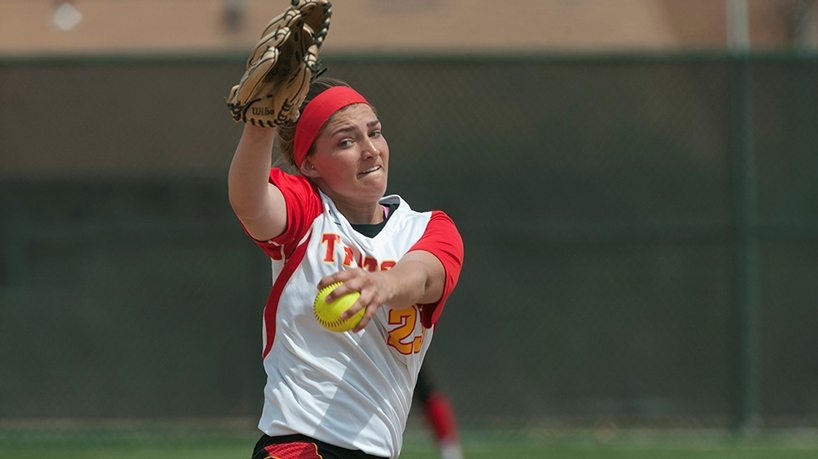 After throwing consecutive perfect games last week, University of Missouri–St. Louis junior Hannah Perryman has been named the Louisville Slugger/NFCA Division II National Pitcher of the Week for games played over March 9-15.
Not only did Perryman enjoy perfection twice last week, the lefty accomplished a rare feat in which she threw the ultimate perfect game and did so after not toeing the rubber for 17 days due to weather cancellations. Against Lake Superior State last Wednesday, Perryman sent all 15 Laker batters back to the dugout on her own, striking out 15 in a five-inning triumph for her fourth-ranked Tritons.
"Being named National Player of the Week really means a lot to me because our team has been working really hard this year," said Perryman. "It is great to be recognized for this honor."
The Streamwood, Ill., native continued to mesmerize her opposition on March 14 as she retired all 21 batters, 13 via strikeout, in a 1-0 complete-game shutout over conference foe McKendree.
"I had a lot of confidence in the circle last week," continued Perryman. "It's really nice to be able to pitch without pressure. Our offense is pretty strong so it makes it 'easier' to throw because I know we're going to score. Not only is our offense incredible, but so is our defense. It allows me to throw all of my pitches with complete confidence because I know someone is going to make a play behind me. Coach (Brian) Levin has us doing a lot of mental training this year and I think it has played a huge role in the games this week because I was able to focus and stay calm every pitch."
Perryman, a criminology and criminal justice major and the Great Lakes Valley Conference Pitcher of the Week, struck out 28 batters with only four balls leaving the infield. It was her second and third perfect games of her career, which ties her for second most in Division II history. She also moved her total of no-hitters to six.
"Hannah has been incredible the past couple weeks," said Levin. "When she is throwing the ball like she has been recently it is something special to witness. She has been so good for the past couple of years one can only wonder how she can get any better, then she does something like this. I told the team that I certainly hope that they are aware of what they have been apart of, because it is something that they will probably never see again."


Short URL: https://blogs.umsl.edu/news/?p=56028